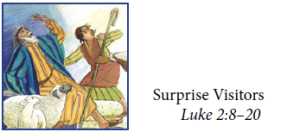 "Glory to God in the Highest!"
"Glory to God in the highest heaven, and on earth peace among those whom he favours."
That is what the shepherds that were watching over their sheep in the middle of the night.
In today's story, we find shepherds praising God and sharing what they witnessed with everyone they saw. We see an evening filled with joy that came with the birth of Jesus.
When we are filled with good news and we have joy, we want to share that with everyone. When we do share that joy, we realize the joy is greater when we share it with others.
As I was reading this story, I began to wonder; why did God decide to share this good news with the shepherds first?
We hope you enjoy reflecting on this story!
Do This Week:
Read "Surprise Visitors" (p. 192,193) with your children
Read Luke 2:8-20
Songs This Week:
TimBits (Preschool)
TimKids (Elementary)