Welcome to St. Timothy's!
Below, you can learn about our mission, history and what makes us unique!
St. Timothy Presbyterian Church is a congregation of the Presbyterian Church in Canada, and belongs to the Presbytery of Eastern Han-Ca.

What Makes St. Tim's Unique?
To live in a community means we must be able to connect to one another. To connect with one another, we must be willing to be vulnerable. A striving community exists because of people who love, respect and support each other. The community that we are blessed with is the church; our church.
Our church's Mission Statement reflects our unique identity, perspective and sense of purpose.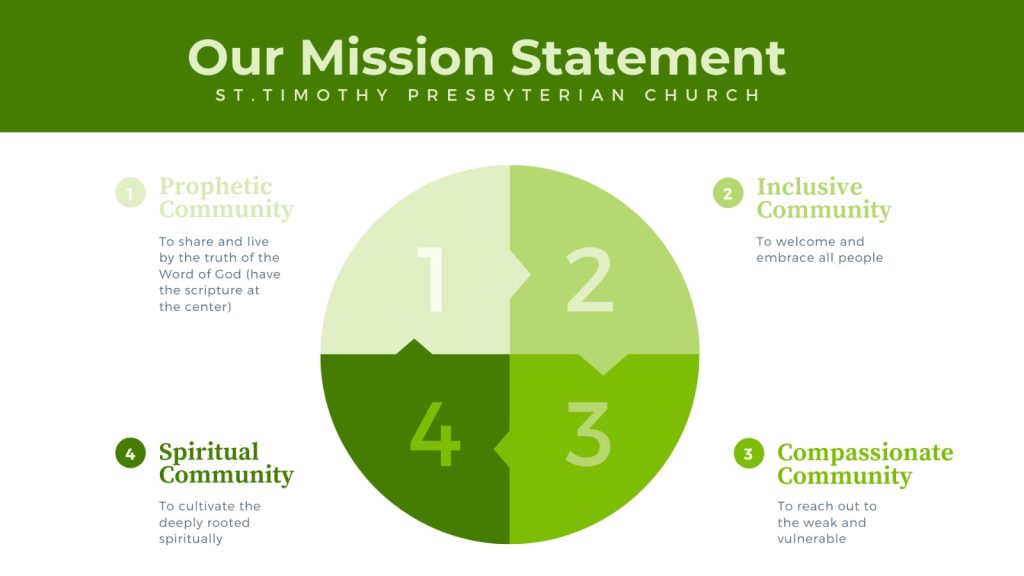 St. Timothy's is a prophetic, inclusive, compassionate, and spiritual community of faith. The fourfold mission statement reflects its unique identity, perspective, and a sense of purpose:
1. Prophetic Community – To Share and Live by the Truth of the Word of God
Just as Jesus is the incarnate Word of the living God, St. Timothy's strives to capture and reflect the spirit of his teachings for the contemporary times in its emphasis and critical study of the scriptures.
2. Inclusive Community – To Welcome and Embrace All People
St. Timothy's is a multi-generational Korean-immigrant church. However, it also strives to be a community where people are welcomed, loved, and included – regardless of their race, culture, and/or political views.
3. Compassionate Community – To Reach Out to the Weak and the Vulnerable
St. Timothy's missional focus is on working with those who experience alienation and marginalization in society. Such reflects the essence of Jesus' ministry that primarily sought connection and solidarity with the powerless.
4. Spiritual Community – To Cultivate a Deeply Rooted Spirituality
St. Timothy's is a community where members can grow spiritually and connect with one another in a deeper and more profound way through worship, prayer, Bible study, and devotionals. This emphasis on spirituality encompasses all aspects of the church.

St. Timothy Presbyterian Church was founded in 1996 (as North York Living Stone Church), through an amalgamation of two congregations: North York Presbyterian Church, and Toronto Living Stone Church. At the time, it was rare for Korean congregations to amalgamate as many were divided because of conflict. The joining of two churches, therefore, proved to be a unique moment and marked the birth of the community we know today.
In late 2000, the church relocated to its current location in the west end of Toronto and changed its name to St. Timothy Presbyterian Church, based on the biblical character who was the child of a Jewish mother and Greek father. This was to reflect the wider vision of the church: of being rooted in the Korean-immigrant community while reaching out to the society beyond it as well.
Today, St. Timothy's continues to be a thriving and vibrant community of faith where two distinct congregations, the KSM (Korean-speaking ministry) and the ESM (English-speaking ministry), co-exist together under one roof. Under the leadership of its ministers and leaders, the church strives to develop an authentic faith and relationships among its members, the surrounding community, and with God.

The Staff and Elders of Our Church
We are a blessed community, and we wish to share our blessings with those around us. Below are the leaders who serve our community faithfully.
The Community of Our Church
Our church always strives to foster intergenerational faith amongst our congregation, from the youngest babies to the more elderly members, and everyone in between!