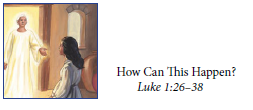 An Angel Visits Mary
How do you handle unexpected news? What will be your reactions?
In this week's story, we see God completely exceeding all our expectations once again when God sends an angel to Mary to give her the news that she will bear a son and she will name him Jesus.
When Mary received this news, how do you think she felt? What was it that helped her obey?
We hope you really enjoy this well-known story. Happy reflecting!
To Do This Week:
Read "How Can This Happen?" (p. 186) with your children.
Read Luke 1:26-38
Songs This Week:
TimBits (Preschool)
TimKids (Elementary)