(Please see below for the wonderful recap of this year's Mission Dinner – written by Elder Peter D. Park.)
---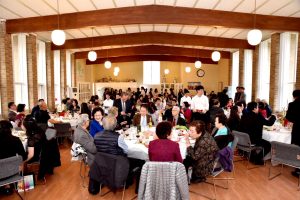 The Mission Dinner has been a great tradition that started over 17 years ago here at St Timothy Presbyterian Church. It is a wonderful night where we celebrate mission and reflect upon its importance in defining who we are as a community and what we believe in. Supporting the weak and vulnerability is one of our church's objectives.
It's great to see everyone come together for this event. There are easier ways to raise funds but it's hard to describe the sense of purpose and unity we feel being a part of it. This year, it was amazing to sell out tickets weeks before the event. One key takeaway last year was not to leave things to the last minute. This year, we were determined and disciplined.
The event started with pre-set up the night before. Thanks to James Lee, James Choe, Tom Choe, Bob Kim, John, Brian, Edward for all the help cleaning up and setting up the tables. There are a lot of cutlery, plates, cups and utensils that require to be pre-washed to get ready for the night. Not a simple task! Thanks also to the ladies that came in to help with the pre-set up: Veronica, Hei Chung and Ji-Sook. This year we decided to purchase a brand new set of knives to replace the poor quality ones we've been using for so many years. Thanks to Rev Chung and Lily for donating them!
Helen Lee with the great help of Ajin Jibsanim (who donated the napkin rings) did a terrific job of decorating the room with the help of the Hi-C. The theme was the Madagascar Flag colours. Thanks to Byung Hae Min for donating the Floral Centre Pieces.
Pastor Dave and Stephanie did a fantastic job MCing the night, keeping the flow going. The Hi-C servers worked so hard all night! Great work serving with John overseeing and liaising with the kitchen and the dining room.
The kitchen crew were real troopers! They were on their feet for many hours plating, preparing, washing dishes. Thanks Lily, Ji-Sook, Caroline, Joon, Helen Chow, Pastor Sunny, and Tom Lim.
Sarah and Jonathan Choe provided some great background music while people were eating. Thanks to our headline performers: Gloria, Heejin, Isaac, Daniel, Hailey for the amazing music.
We thank all those donations that were received. This added a lot of excitement to the raffle portion of the night. We decided to do a live auction this year. We had 3 really great donations. Thanks to Jun Kim who donated his great TFC tickets that include food, drinks and a great spot behind the net and the player entrance! Thanks also to Steve who donated a golf outing with him at his Donalda Club with food and drinks. Elder K.S. Choi donated 2 green fees to the Country Club, a Clublink course. So many others pitched in:
– Dennis & Kathy donated Blue Jay tickets
– Mena donated a Matt & Nat wallet and $50 used to purchase gift cards,
– Jonathan Cho donated 2 x $50 McDonald Gift Cards
– Pastor Simon's mom donated a $100 Galleria Gift Card
– Edward donated $200 used to purchase Gift Cards
– Tim donated $300 used to purchase Gift Cards
– Marcello donated one of his pieces of art
– Hyung donated a fitness session (this was quite the hit!)
– Bob Yoon donated a Fitbit
– Kris donated J. Lohr wine
– Peter donated Oban scotch
– James Choe donated a $100 Costco Gift Card
Thanks Michelle for helping organize the raffle and put together the prizes! We raised $2050 selling raffle tickets.
Thanks Stefanie and Hedy for setting up and selling the sweets and donating the $221 raised!
Finally, a really huge thanks to Kris who planned and oversaw all the food of the night. The appetizers were a big hit. Thanks to all who also donated all the food to make these:
Meatball appetizers by Sena.
Salad by Helen Chow
Smoked salmon by Jennie Jang
Cauliflower soup by Bruce Seo
Cheesecake by Miseon and Duc
Prosciutto and cured meat by Kee
Big thanks to Elder K.S. Choi and his wife Esther (Shinae and Dahae's parents) along with a lot of help from Elder Y.G. Kim and his wife (Minjoo & Shawn's parents) who took care of the main course: steak and lobster. Huge effort!
(*Photos by Elder James Choe)