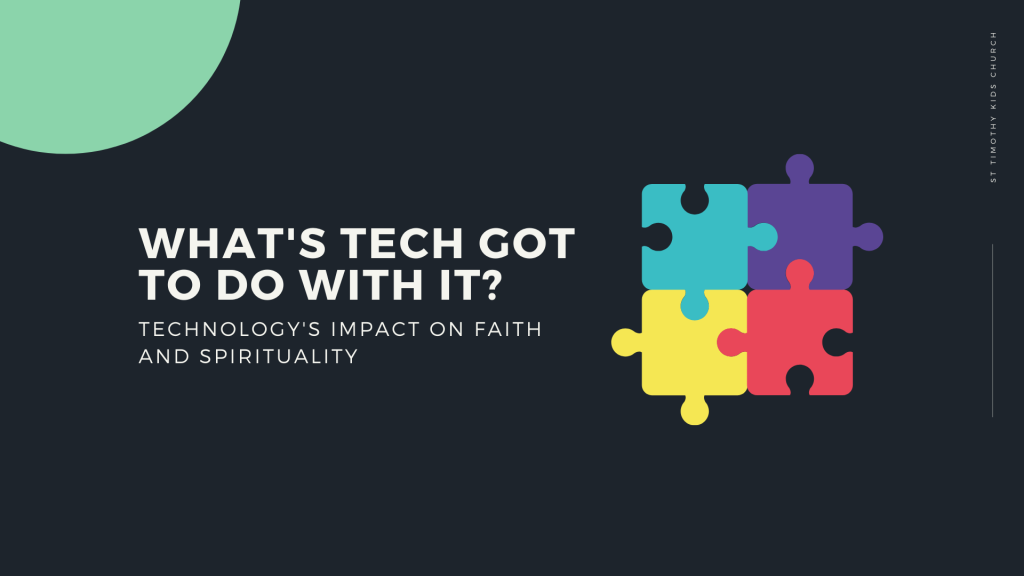 This post is part of a series on "Faith Formation for Families". The text below is a talk given by Kathy Hwang on how she has made decisions about technology for her families. For the accompanying talk about technology's impact on faith and spirituality, see the post: 

"What's Tech Got To With it?"
By Kathy Hwang
When Pastor Simon asked me to speak to give advice, I was truly humbled because as a parent you always wonder if you are raising them right, whatever right is. Later, I realized what did I agree to as public speaking is not my thing even though my children would say otherwise, and neither is writing but I had to write since I have a difficult time focusing. The children's advice to me is "pretend you are giving us a speech mommy because you can go on and on".
I am a single mother of four amazing children, amazing because others have often told me how amazing they are and that I did a great job. Bianca is my eldest daughter who is 18 years old, followed by Chloe who is 16 years old, then Naomi who is 13 years old and finally Olivier who is 11 years old.
I have always been drawn to articles and documentaries that I can learn from. I remember one article about a boy who's parents took away his gaming and killed himself and how much the parents regretted giving it to him in the first place, another documentary on the alarming rate of breast cancer in young women in their 20s, coincidentally in the same spot they carry their phone, another one on the dangers of texting and driving, another on mental illness, another on those who have created these devices send their children to tech free schools, etc. There is so much information out there about the negative impacts of electronics but for some reason we don't think it applies to us until the problems come knocking at your door. I don't know about you, but I don't need another problem in my life.
Limiting technology in these times is very challenging. The children's father and I have very different views on technology so I have to work with those differences to limit the children's exposure. Also, each child is different and as a parent you have to adjust to those differences. Then there is the social pressure which I am sure all of you are aware of. As an adult, I have a difficult time regulating my tech usage so how can you expect children to regulate themselves to such an addictive device.
High school is a challenging time for any teen and parent especially since technology is the norm and teens are going through so much change while trying to fit into their world. When the children started high school, all their friends were getting cell phones, but my girls were still bringing their big iPads to school. Then their father bought Bianca and Chloe used cell phones. I let them keep their devices to use with no functions so they used it like a really nice iPod mainly for music. I used their cell phones for my parenting advantage and would find any excuse to take their phones away. I could see Chloe cherished her phone more than Bianca so Chloe got her device taken away very often. Even though she was upset with me, I could see the change in her demeanour right away from being phone free. Chloe is doing much better limiting her use but it is still an issue from time to time especially when I learn more or I am reminded of how bad it really is.
I started watching the Social Dilemma last night and told the children I may further reduce their access, it did not go over well and we are still in the negotiation stage.
It seems children have cell phones younger and younger now. Recently, Naomi in grade 8 got access to a cell phone. Every one in her class except one boy has a cell phone so I caved in and let her use it with restrictions. I let her take it to school but as soon as she comes home at 4:30 pm she has to put it in a bucket in my room and is not allowed to have it until the next day when she goes to school. She already lost her phone for a week for a minor infraction but now knows that I am very serious about my rule. I still question myself as to whether I should let her keep the phone.
There are four of them, now three since Bianca went off to Western to manage and it is not always easy to remember what rule applies to who but they know. Two of them are very responsible at following the rules. The other one had to lose her phone numerous times to understand the rules. The more common rules that I remember are all devices have to be in my room by 9 pm and no devices on Sunday. I have a desktop in the living room where everyone can see the screen if any of the children need to do their homework on Sunday.
My son has his own set of rules and right now he has lost all privileges to any electronics. I was reminded last night that I said it was for one month but I thought I said forever. Olivier has access to many of his sister's devices and often when he is quiet he is on a device. After watching him for a couple of weeks, I realized how occupied he was with getting on a device as soon as he got up. At 11 years old, he does not even need to be on a computer so I took away everything and put a password on every single device. As a toddler, I could his unhealthy attraction towards the Wii. At his father's house he has the PS4 and he keeps asking me to buy the PS4 for my house since he is mostly with me. It is so hard not caving into your children's demands especially since all the other kids seem to have it, but that guilt will pass.
Children do not need to be busy all the time. It is ok if your child looks bored, it is normal and actually good for them. They need quiet time with no distraction so they can use their imagination. During the summers, I make my children go to their room for an hour for alone time without any access to technology. It is harder as they got older especially my eldest at 18 years old but they appreciated the alone time rule knowing they would get an hour break from one of their annoying siblings.
During the school year, the children are allowed tv only from Friday to Sunday only after they have done all of their chores. They are use to not watching tv. To keep my children away from electronics I also put them in a lot of activities from piano, gymnastics, karate, soccer, etc. With homework, chores around the house, activities, practicing piano the children don't even have time for electronics.
To prepare Bianca for university, I caved into the social pressures and got Bianca a phone with unlimited talking and texting and 1.5 GB of data. She was so happy to finally get a phone with access to its intended functions. I reminded her that I am not there to regulate her usage and I hope she uses it wisely and remembers what I taught her. She told me that she was grateful that I didn't let her have it before.
Every child is different so you have to be creative and adaptable to their different stages in life. When they were much younger I allowed them as much electronic time as they would read and they would not read more than an hour. Also, the children have to see parents following their own rules to some degree. It ultimately starts with parents.
Thank you for taking the time to listen. I hope as parents you understand it is in your children's best interest to limit technology. It is ok to go against the norm and it is ok to change the rules as often as you need to. It is normal to make mistakes and you will make many but keep talking to your children even if they look like they don't want to, they do. Life get busy but as a parent you need to be your children's safe place and they need to know they matter so they don't search elsewhere. I sat for hours trying to get some of them to talk. Once they know you are truly there to listen, they are quicker to tell you what is bothering them. Being a parent is the hardest and the most important job you will ever have and the most rewarding. As amazing as my children are, they are still connected to technology and its negative impacts so it is imperative to keep communicating and reinforcing the positives. Delay as much as possible giving them free access to electronics at least until high school, then set boundaries. It is easier to give access little by little than take away once they are use to having it.