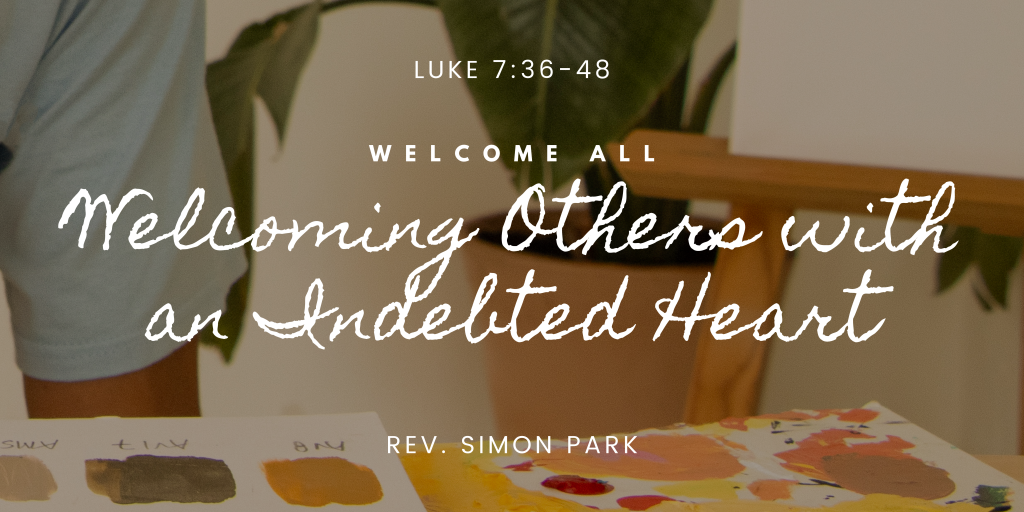 Scripture Passage
Luke 7:36-48

36 One of the Pharisees asked Jesus to eat with him, and when he went into the Pharisee's house he reclined to dine. 37 And a woman in the city who was a sinner, having learned that he was eating in the Pharisee's house, brought an alabaster jar of ointment. 38 She stood behind him at his feet, weeping, and began to bathe his feet with her tears and to dry them with her hair, kissing his feet and anointing them with the ointment. 39 Now when the Pharisee who had invited him saw it, he said to himself, "If this man were a prophet, he would have known who and what kind of woman this is who is touching him, that she is a sinner." 40 Jesus spoke up and said to him, "Simon, I have something to say to you." "Teacher," he replied, "speak." 41 "A certain moneylender had two debtors; one owed five hundred denarii, and the other fifty. 42 When they could not pay, he canceled the debts for both of them. Now which of them will love him more?" 43 Simon answered, "I suppose the one for whom he canceled the greater debt." And Jesus said to him, "You have judged rightly." 44 Then turning toward the woman, he said to Simon, "Do you see this woman? I entered your house; you gave me no water for my feet, but she has bathed my feet with her tears and dried them with her hair. 45 You gave me no kiss, but from the time I came in she has not stopped kissing my feet. 46 You did not anoint my head with oil, but she has anointed my feet with ointment. 47 Therefore, I tell you, her many sins have been forgiven; hence she has shown great love. But the one to whom little is forgiven loves little." 48 Then he said to her, "Your sins are forgiven."
Sermon Script
Simon the Pharisee invited Jesus to eat with him. His invitation was a sign of welcome. But let's examine this invitation.
Simon decided who was acceptable for an invite. Jesus was deemed acceptable by Simon. But he drew a line. When the woman came in, he deemed her unacceptable. She was a sinner.
"If this man were a prophet, he would have known who and what kind of woman this is who is touching him, that she is a sinner."

Luke 7:39
We are very much like Simon. We draw lines. We decide who is acceptable and unacceptable. Those whom we deem acceptable, we offer a welcome and invitation. Those whom we deem unacceptable, we judge and exclude. We set up criteria. If they meet that criteria, then great, welcome! If they don't, then we judge them and exclude them.
Junior high and high school is full of this type of interaction and behaviour. We decide what criteria to use in accepting someone or excluding them. Life is so insecure because you don't know when you'll be accepted and when you won't. So there's a lot of insecurity.
Social media can be very unforgiving as well. If you make a mistake, the crowds will be all over it. You become that sinner who is unacceptable.  The world can be a cruel place.
Simon invited Jesus into his space. We think of welcoming as inviting others into our space. And that is a good thing to do. That is welcoming. But the potential downside of this is that we become the judge of who gets to come in. It becomes our space that others have to come into. They have to accept our rules. Their acceptance is conditional on complying with my rules.
The woman was very different. She didn't invite Jesus into her space. She went into someone else's space. She went into Simon's house. She went directly to Jesus. She didn't wait for someone to accept her invite.
What she did was very different from Simon too. Simon gave food out of his abundance. She brought her best ointment. Alabaster ointment was very expensive. This woman was probably quite poor. She brought everything that was of value with her. We can see her heart being poured out to Jesus. She showed him great love.
What do we learn about welcoming from this woman? Welcoming others is not merely inviting others into our own space. Yes, that is a form of welcome. But the welcome that Jesus is praising is welcome that goes beyond that. It is about going beyond your own space into another's space. It is about showing that person great love.
"Hence she has shown great love."

Luke 7:47
Welcoming others, according to Jesus, is to show others great love. And not just to those whom we think deserve it, but to those considered not deserving of it.
Simon judged the woman who came into his space. But Jesus was the opposite. What did Jesus do? He forgave the woman. He was gracious to her. He did not judge her. He welcomed her.
Welcoming others is to show great love to those who are considered unacceptable. This is not always easy. When everyone else is judging and excluding that person, it's easy to pile on. It can be isolating to go against the crowd and show compassion. We want to separate ourselves from those who are unacceptable.
We don't know anything about the woman. Maybe she really did do something really bad. Maybe she deserved condemnation. But Jesus refused to go along with everyone else.
It takes a strong and mature person to reach out and welcome the unacceptable. Welcoming others is to show great love to those who are unacceptable. But how can we do this?
Jesus says this:
"Therefore, I tell you, her many sins have been forgiven; hence she has shown great love. But the one to whom little is forgiven loves little." 

Luke 7:47
Simon didn't think he needed forgiveness. He was a pretty good person in his own eyes. He believed he was a good person. So he didn't think he needed any forgiveness. The one to whom little is forgiven loves little. That is the key. When you think you're all good, you're not able to love others.
The woman, however, knew she was a sinner. That's why she was in tears. That's why she brought her best ointment. That's why she bathed his feet with her tears.
Jesus accepted that act. He was gracious. He forgave her. Her heart was humble and grateful for the mercy she was shown. From that humble and grateful heart, she was able to show Jesus love.
The beginning of the Christian journey is to recognize our own sinfulness. That is the core starting point. The fundamental realization one must come to. If you think that you're okay, then you don't need forgiveness. Without receiving forgiveness, you don't have the capacity to love. You don't need Christ.
The Christian spiritual journey is not about becoming a morally better and better person. It is actually about seeing more and more how not good we are. It is about seeing more and more of our sinfulness. But, in seeing more and more our sinfulness, it is seeing more and more of God's grace.
The more honest we are about ourselves, the more we see and experience God's grace. No matter how unacceptable we are, God accepts us. Unless you go through this journey continually, you cannot welcome those who are unacceptable.
The woman came pouring out her heart to Jesus. Jesus did not condemn her. He embraced her. He said her sins are forgiven. She felt gratitude and indebtedness to Jesus.
Out of her indebted heart, she was able to show great love.
I want our Hi-C to be a place where you practice this. The more you get to know each other, the more you will find faults in each other. There will be more reason to criticize and exclude each other. But let us practice welcoming one another. Start with yourself. Be honest about your own sinfulness. Accept God's forgiveness and experience grace. And ask God to change you to be more like God.
From the Hi-C, become strong and mature people who can show this kind of love. Then at your schools, be people who reach out to the unacceptable. Be strong. Be mature. Be a light.
May God lead you in a life of welcoming others, especially those who are unacceptable.