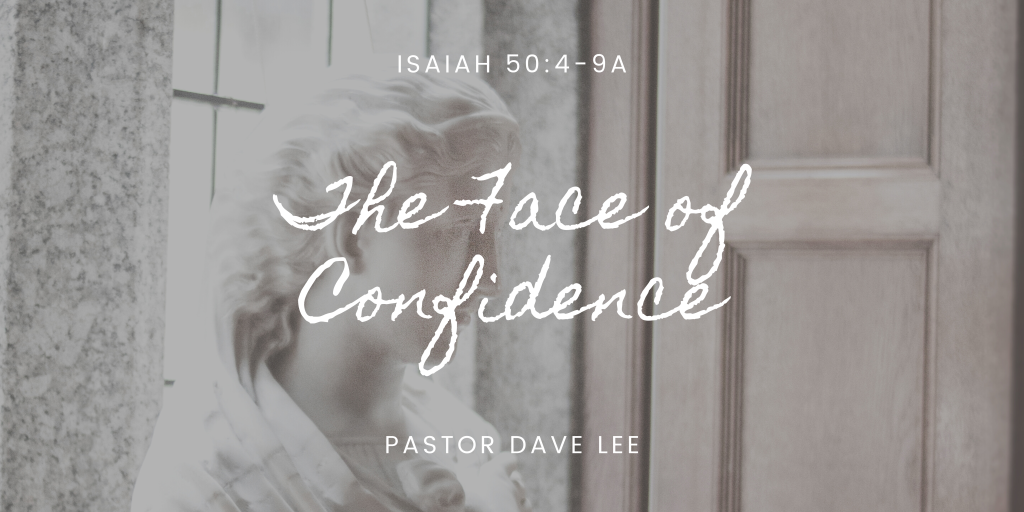 Scripture Passage
Isaiah 50:4-9a

4 The Sovereign Lord has given me a well-instructed tongue,
to know the word that sustains the weary.
He wakens me morning by morning,
wakens my ear to listen like one being instructed.

5 The Sovereign Lord has opened my ears;
I have not been rebellious,
I have not turned away.

6 I offered my back to those who beat me,
my cheeks to those who pulled out my beard;
I did not hide my face
from mocking and spitting.

7 Because the Sovereign Lord helps me,
I will not be disgraced.
Therefore have I set my face like flint,
and I know I will not be put to shame.

8 He who vindicates me is near.
Who then will bring charges against me?
Let us face each other!
Who is my accuser?
Let him confront me!

9 It is the Sovereign Lord who helps me.
Who will condemn me?
Sermon Script
Today is Palm Sunday or Passion Sunday. It begins the Holy Week, the final week of Jesus' life. Jesus enters Jerusalem and makes his way to the cross.
When I think about Jesus and his life, one word comes to mind. That's confidence. Jesus didn't live a long life. He died in his early 30's. That's young. But he lived a full and meaningful life. He lived his life with confidence. He didn't live with a timid spirit. He was like the Servant whom the prophet Isaiah envisioned in the passage we just read.
Jesus gave a 'face' to what confidence is. He redefined what it means to be confident. Confidence has three distinct qualities. Quiet. Faithful. Trusting. These qualities make up the face of confidence. I'd like to reflect on them with you today.
First, confidence is QUIET. I don't mean all confident people are quiet and don't talk much. There are confident people who are very outgoing. By 'quiet', I mean that true confidence does not boast. It doesn't try to show itself off. Confident people do not feel the need to prove to others how great, capable or wonderful they are. In that sense, their confidence is quiet.
What separated Jesus from others was his quiet confidence. He never sought to be in the spotlight. In fact, he avoided it as much as he could. He healed out of love, not out of his own insecurity. He didn't live to be served, but to serve others. Do you remember it from our study of the Gospel of Mark?
For even the Son of Man did not come to be served, but to serve, and to give his life as a ransom for many.

Mark 10:45
In quiet confidence, there is power. It is not the power that comes from people's acceptance and approval. It is the power that comes from you knowing who you are. Jesus knew who he was. When people were in Jesus' presence, they felt this power radiating from him.
Second, confidence is FAITHFUL. Confident people do not waver easily. They don't say one thing and do another, based on how they feel at that moment. They don't run away when things get hard and difficult. Confident people are focused and committed. They are faithful in all matters, whether small or big. They do not compromise their character and integrity.
As I said before, Jesus lived a short but wonderful life. But it wasn't an easy life. Jesus dealt with all sorts of challenges along the way. The last week of his life was particularly difficult and painful. He knew he'd be betrayed by his closest disciples. He knew he'd be unjustly accused of the things he didn't do. He knew he'd be put to death by people who didn't recognize him for who he was. He was so afraid and troubled that he wanted to run away at one point.
Going a little farther, he fell with his face to the ground and prayed, "My Father, if it is possible, may this cup be taken from me. Yet not as I will, but as you will."

Matthew 26:39
Yet Jesus did not waver. He remained faithful to what he felt called to do until the end. He served his disciples until the moment he was betrayed. He didn't retaliate when people mocked him and treated him violently. He loved and forgave them, even as he was dying on the cross. Don't the words of the Servant describe exactly what Jesus went through?
I offered my back to those who beat me,
my cheeks to those who pulled out my beard;
I did not hide my face
from mocking and spitting.

Isaiah 50:6
Confidence has nothing to do with being successful. If that's what confidence is, then Jesus had no confidence. Confidence has to do with being faithful. At Rev. Simon's ordination in 2019, Rev. Kim said this—
What God wants is not a successful minister, but a faithful minister.

Rev. In Kee Kim
This doesn't just apply to ministers. It applies to all of us. God wants us to be faithful. Faithfulness comes from our confidence.
Third, confidence is TRUSTING. This, to me, is the most important. It is the very soil and foundation of confidence. Confidence is all about trust. It comes from putting our complete trust in someone or something else. Trust has very much to do with love. We trust only those we love. Without love, we cannot trust fully. Without trust, we cannot find our confidence.
Jesus' confidence came from his trust in God. Nothing else. He was able to live his life with confidence because he believed that God will help him, no matter what. He believed that nothing could separate him from God's love. The words of the Servant capture Jesus' confidence perfectly.
Because the Sovereign Lord helps me,
I will not be disgraced.
Therefore have I set my face like flint,
and I know I will not be put to shame.

Isaiah 50:7
Jesus marched confidently to the cross with this mindset. The Roman judicial system branded him as a criminal. Some people, like Pilate, saw him as an innocent victim. Jesus was silent, but he did not see himself as a victim or a criminal. His silence was a sign of his confidence that God will help him. He knew that he would not be disgraced in God's sight.
We may not live the life that Jesus lived. But we experience similar fears that Jesus faced in our own life. Fear of being judged and misunderstood. Fear of rejection. Fear of loneliness and abandonment.
Jesus showed us that we don't need to live out of our fears. Jesus showed us that we don't need to live a timid life. Jesus showed us that we can live with confidence, fully trusting that God will help us. Jesus showed us that with confidence, we can embrace any challenges that come our way. Isaiah tells us later in the Servant song—
Let the one who walks in the dark,
who has no light,
trust in the name of the Lord
and rely on their God.

Isaiah 50:10
Do not let your fears sway you from living your life. Let God's love restore the face of confidence in your life. Let us head into the Holy Week with God's Spirit that is always with us and helps us when we are in need.