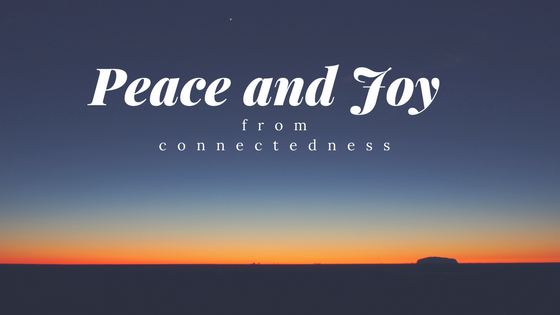 Scripture Passage
Message Audio
Message Notes
The incident on Yonge Street
Stemming from isolation
Isolation that led to anger and hatred
Implication: our own well-being and connectedness is important not only our own sake, but also for the well-being of those around us
If we are happy and joyful in life, that will help others be happy and joyful
If we are isolated, unhappy or joyless, that will affect others negatively
We are all made for connection
"Abide in me as I abide in you"
This passage was part of Jesus' farewell speech to the disciples
Jesus knew he was going to soon meet his end, and he was trying to reassure his disciples
He was telling them to dwell or remain in him as he dwelled or remained in them
From that, Jesus says a little later on: "love one another as I have loved you"
In other words, he was telling his disciples to remain deeply connected – with him as well as with others
But that is often not the reality, isn't it?
We are very often isolated, not connected
One of the main causes is rejection
Social rejection: people exclude me, don't talk to me
Societal rejection: don't get accepted by good schools, or can't find a job
Sexual rejection: girls don't like me because I'm awkward, guys don't like me because I'm not pretty enough
Fear of rejection: not confident in myself, therefore I doubt I have anything to offer
Other causes of isolation: addictions
Drug and alcohol addictions for some
Sexual addictions for others
Video games and internet
Social media: comparing our life to others, makes us feel more isolated
Manifestations of isolation
Rejection: many different manifestations
Try to become self-sufficient – don't need people – because afraid of rejection
Put on a happy face to convince yourself and others that you're ok
Or, you can let anger start brewing into hatred
With technology, you can find others who feel the same way as you
Start reinforcing each other's anger and hatred
Start developing a warped and narrow view of reality
That's when things can start becoming dangerous
Or you simply withdraw and isolate yourself, dealing with the pain all by yourself
Each of those manifestations is tragic – it goes against the purpose for which we were created
Our purpose is to have deep connection, with God and with others
Since our March Retreat, we've been talking a lot about the journey – to becoming the "Me" I will be tomorrow
Part of this journey is discovering the things that make us isolated and less connected
Identifying those things, and then removing those things from our lives
Jesus uses the example of pruning a tree
Process of pruning a tree
Helps remaining branches grow stronger, bear bigger fruit
So must ask yourself: what is there that is leaving you more isolated and less connected?
Have you been putting on a cover to mask your isolation?
So that's the first step: identifying and uncovering what is making you more isolated
The next step is to prune, cleanse or remove those things that isolate you
But this is not something you do on your own
In fact, it's not by your sheer willpower or effort that you can do this
"You have already been cleansed by the word that I have spoken to you" (15:3)
Do you see it?
It's not by their effort that they were cleansed of things that isolated them
It was something that happened to them
It happened to them by the words Jesus had spoken to them
My friends, this is the power of God's Word
When we hear, when we listen, to God's Word – and allow them to soak into our being, that is when we will be able to remove the things that isolate us
God's Word: such as the words I speak to you on behalf of God
How you interpret the Bible or these sermons in your lives
When you remember God's Word that you are precious and loved
So the things that isolate us are removed simply by being open to God's words of truth and life
When God's Word soaks into our lives, and we continually seek out the Word, do you know what happens?
What you desire and wish for change as well
You start to desire greater connection with God and others, and to remove the things in your life that isolate you
"If you abide in me, and my words abide in you, ask for whatever you wish, and it will be done for you." (15:7)
That's what this verse means
If we are deeply connected with God, and God's words continue to soak into us, what we desire will change, and so our prayer becomes asking God to remove the things that isolate me
My fear of rejection
My anger at being rejected
My lack of confidence
All of these things I pray to God, and God will be faithful and answer these prayers
Jesus talks a lot in this passage about bearing fruit
That is ultimately the purpose of being disciples of Christ – to bear fruit
Before this passage, Jesus talked about peace: "peace I leave with you; my peace I give to you"
This is the fruit that comes from being deeply connected to God and with others
Not only that, but peace begins to dance, and you know what that becomes?
Joy! Joy is peace dancing with delight
Peace and joy: what wonderful fruits they are!
When we are deeply connected, God then sends us out into the world to be agents of peace and joy
That is the mission of the church
In church, we gather in peace and joy and experience that deep connectedness
This is a taste of the world that God wants
We are called then to be agents of peace and joy wherever we are
In your schools, you bring peace
You are not easily shaken or fearful of rejection, because you know who you are and are deeply connected with God
With compassion, you can be a friend to those who might experience more rejection, or stand up for those being excluded and rejected by others
As a church, together we also go into the world
This summer, we will reflect and act a lot more on our mission together as a church
We need peace in this world. We need to let peace dance into joy. This starts inside of us, when we are deeply connected with God and allow God's Word to soak deeply through us.