Written by: Liam Johnstone | Photo Credits: Lauren Lee
After many years of delay, the Hi-Cs finally had their first lock-in. While lock-ins usually primarily consist of spending the night and simply sleeping, getting rest was one of the activities we unfortunately didn't spend too much time focusing on. However, in the picture above, Sarah, one of the counsellors, couldn't help herself and fell asleep in the one of the pews for a powernap. Apart from our lack of sleeping, we started off the night with dinner followed by a time of discussion.
After meaningful discussion in pairs, everybody headed downstairs to play some fun games! Except these games were based off a show that we all know and love, Squid Game! The off-brand games played were known as Crab Games and consisted of the iconic Red Light Green Light, a Dalgona inspired paper cutting game, as well as a platform game where if you fall off, you are eliminated!
As the Crab Games finished up, a new game was introduced, a scavenger hunt that led the Hi-C all around the church! Groups were made and then given an initial clue, then they were sent off to figure out each clue one by one, finding powerups along the way which could either help them, or punish another team. These games were tons of fun and if the Hi-C plays any game which involves running around the church, they always love it.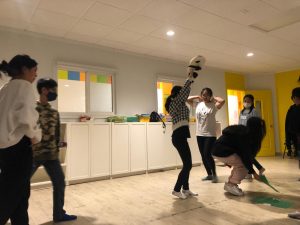 After the games, we went back to the Fellowship Hall to enjoy some halloween candy and play a couple rounds of Mafia. Then we decided to go back to the sanctuary to sing some karaoke. Here you can see Liam and Lucas singing along to Rick Astley's 'Never Gonna Give You Up' as well as the Chung sisters getting ready to sing everyone's favourite Frozen song, 'Love Is An Open Door'.
We were so happy to have had this lock-in and we hope everyone had a ton of fun and enjoyed all the fun activities we did instead of sleeping! We hope to see everyone at our next gathering! Once again, thank you to the wonderful execs for planning this event 😀