By: Doyeon Oh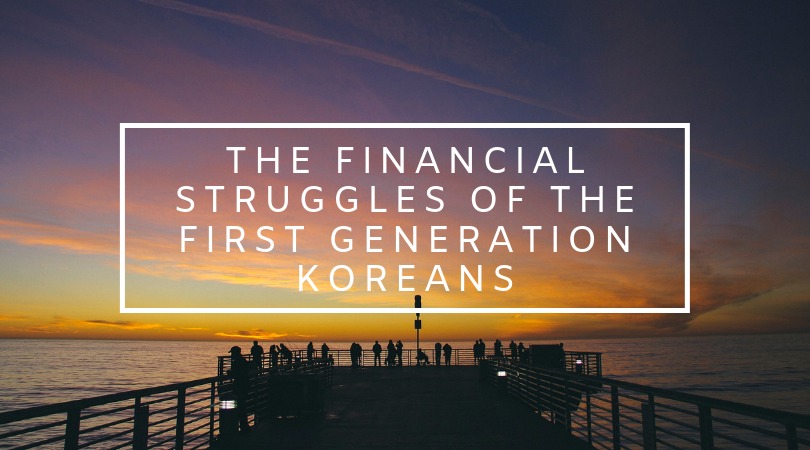 This blog post explores the economic challenges and personal stories that the first generation Koreans went through when adjusting to life in Canada.
What were the economic challenges they faced when they came to Canada, and how did they respond?
Around late 1950's, after the Korean War, Koreans were driven out of Korea because of the poor living conditions. The Korean government wanted to secure foreign exchange, so they promoted an emigration policy which lead many people to immigrate to Canada. During this time, the Chung-Hee Park government only allowed $200 to be brought out by each household resulting in a common problem for all the immigrants: economic challenges. On top of all this, they had financial struggles because of the language and cultural barriers.
Late 19th Century to Early 21st Century
In 2006, Canadians with Korean origin were more likely to have a higher academic education than the average Canadian. However, even with the degrees earned in Korea, they were still less likely to find jobs in the Canadian labour market. The degrees that they earned were not accepted by Canadian employers, and Koreans often didn't speak enough English to get jobs that required degrees in Canada. In 2006, there was an extremely low labour participation and higher unemployment rate in the Korean community. The percentage of unpaid family workers was high among Korean Canadians compared with the Canadian average. In response to these economic challenges, 1st generation Koreans had to work as much as they could and make money to support their family. They sometimes struggled to make rent. Most of them received job information from other Koreans that they met at church, since they were also in the same situation as them.
In 2005, the total average income for Korean Canadians aged twenty-five or older was $23,741, about $14,000 less than, or about 60 per cent, of the national average of $37,937. Canadian-Korean men and women earned much less than the Canadian average, whether they worked part or full time. Many Korean families and individuals fell below Low-Income Cut-offs (LICOS). There was little financial stability for Korean Canadians at the time, and they struggled to find jobs to support their families. Although they worked any job they could find, even if it was exhausting or dangerous, they were spending it all on necessities.
Personal Stories
We interviewed three 1st generation Koreans that immigrated to Canada in the late 1900's, one of them including the head reverend of our church, Reverend In-Kee Kim.
The first interviewee came to Canada in 1985 as a student, with a dream of becoming a women's minister. She didn't have to worry about the rent because her relative, who had already settled in Canada, paid for a place for her to stay. She did not face too much of a financial struggle, but was 24 years old and had to work because she needed money for living. She worked 4 years as a waitress, cashier for 1 year, and 7 years at church as a secretary. When she wanted to talk to her mom, she had to pay $1.87 for long distance, and felt upset about not being able to talk for too long with her mother.
Reverend Kim came to Canada in 1977, at the age of 19, with his mother and brother. He didn't have much background in English-speaking, and had to struggle with language barriers. His mother was already here and her work was the only source of income. They found Ontario housing since it was much cheaper and they only took ¼ of total income for rent. His tuition fee for university was paid off by a government grant. He said he remembers living with very little financially. Because of the language barrier, there was a limited amount of jobs he could take. He drove around the greater Toronto area selling candy to retail stores, worked for a cleaning service, and worked at a convenience store run by Koreans. He also once applied to a Japanese restaurant to wash dishes but was not offered the job because they considered him overqualified.
The third interviewee is a 1.5 generation Korean and said he came to Canada in 1991. After finishing his duties at the military and graduating from university, he followed his mother, who had already immigrated to Canada, and came to Canada with his brother. As the oldest son in the family taking care of his brother and mother, he had to go through financial and emotional struggles. When he was working at a family restaurant, he woke up at 4am and worked until 7pm, sometimes not even being able to sit down even once during the shift. He had to ask the landlord for extension of the rent deadline, since he worked for a family business and didn't earn a lot of money. The landlord was also nice enough to not raise rent for 5 years, as he was also an immigrant and understood his situation. In response to the economic challenges, he depended on God and the church community a lot. He sometimes went to pray in the sanctuary alone, asking for God's help.
Bless the Lord
For the interviewees, blessing the lord meant the love and support they received from God and the church community. When they were struggling with financial needs and feeling isolated, they could turn to God and the people at church. In these hard times, when they didn't feel financially secure, they could turn to God and others in the church for support.
How does this affect the way I think about my faith?
My faith was not really affected through this research since it felt more like I was listening to stories and was learning about the past. However, I found it really interesting to learn about their lives and stories since they're so different from mine.
– Doyeon
This is the
eighth
post in the "Stories of Faith" series. Click
here
to see the others.
Stories of Faith is also the theme of our 2019 ESM Summer Retreat. Learn more about it
here
and register now!