This post is part of our
25th Anniversary: Community of the Word series
. To sign up to see more content for the
Community of the Word
, please
click here.
What are some of your cherished memories during your time at St. Timothy?
As I reflect on my years at St. Timothy, many cherished memories get stirred up. Ministry at St. Timothy invited me to be part of all aspects of life – from birth to death and everything in between, which was a privilege. The faces of people (kids, Hi-C youths, KSM elders, kwonsanims, jipsanims, college students, ESM young adults, women's group, ESM elders, and families), their words of encouragement, and the moments of joy and challenging times of suffering that we shared come to my mind, rather than ministries I was involved in. At the end of the day, I guess it's the people that matter, and I believe that's what St. Timothy taught me.
How did the church shape you (and how does it continue to)?
At St. Timothy, I experienced the power of the Word of God in ways I never experienced before. I think I always heard and knew that the Word of God is powerful. Still, I experienced it as a different kind of power at St. Timothy through Rev. Kim's teachings – not the kind of power that makes me strive to be overtly strong and perfect but as the power that enables me to embrace my vulnerability and hence experience freedom from within. But I also learned that this is not something I can permanently possess and be set for life. In other words, I learned it to be a journey – a spiritual journey. The spiritual journey that I began at St. Timothy continues with me today. I remind myself to be still before God's presence and allow the truth and grace in the Word of God to break, empty, and mold me.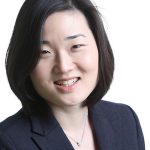 Rev. Jane Yoon
Rev. Jane Yoon served at St. Timothy between 2010 and 2016.