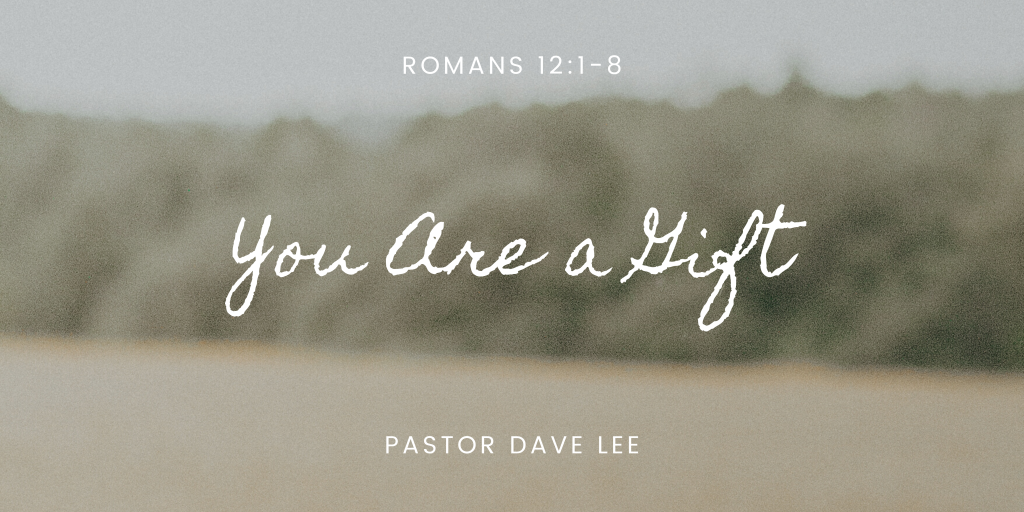 Scripture Passage
Romans 12:1-8 (NIV)

Therefore, I urge you, brothers and sisters, in view of God's mercy, to offer your bodies as a living sacrifice, holy and please to God—this is your true and proper worship. 2Do not conform to the pattern of this world, but be transformed by the renewing of your mind. Then you will be able to test and approve what God's will is—his good, pleasing and perfect will. 

3For by the grace given me I say to every one of you: Do not think of yourself more highly than you ought, but rather think of yourself with sober judgment, in accordance with the faith God has distributed to each of you. 4For just as each of us has one body with many members, and these members do not all have the same function, 5so in Christ we, though many, form one body, and each member belongs to all the others. 6We have different gifts, according to the grace given to each of us. If your gift is prophesying, then prophesy in accordance with your faith; 7if it is serving, then serve; it it is teaching, then teach; 8if it is to encourage, then give encouragement; if it is giving, then give generously; if it is to lead, do it diligently; if it is to show mercy, do it cheerfully.
Sermon Script
In life, we see so much emphasis being put on our ABILITY. Our skills. How good we are. How well we can do something. We feel that our worth is constantly being measured by what we CAN do—and what we CAN'T do. We experience that in school. We experience that when we take extracurricular lessons. We experience that when we are looking for jobs. If we are good at something, we are seen as a valuable asset. If not, we are seen as nothing. That is how the world thinks and operates. It puts skills and abilities FIRST.
In our Christian faith, it's the opposite. The PERSON comes first, before their skills and abilities. It values and cherishes the human being above everything else. We see that right from the book of Genesis. God gave human beings the responsibility to care for creation. David also experienced how precious we human beings are in God's sight.
When I look at your heavens, the work of your fingers, the moon and the stars that you have established; what are humans that you are mindful of them, mortals that you care for them?

Psalm 8:3, 4
In another psalm, David shares how God does not want what we can do for him. What God wants is us—just as we are.
Sacrifice and offering you did not desire—but my ears you have opened—burnt offerings and sin offerings you did not require.

Psalm 40:6
To God, there is nothing more precious to him than us.
In today's passage, St. Paul talks about spiritual gifts. Gifts we've been given to serve our community. Even here, it might be easy to think of gifts as our abilities. Natural talent or skill. But we see that St. Paul doesn't see it that way. Listen to what he says before he talks about our gifts.
Therefore, I urge you, brothers and sisters, in view of God's mercy, to offer your bodies as a LIVING SACRIFICE, holy and pleasing to God—this is your true and proper worship.

Romans 12:1
Similar to what David said in his psalm. St. Paul considers the WHOLE PERSON first. What he means by offering ourselves as a LIVING SACRIFICE is our fundamental calling as humans: BEING A GIFT TO OTHERS.
You are a GIFT. God has created you to be a precious gift. The essence of a gift lies in it being GIVEN. TO and FOR someone else. To bring JOY to their lives. If it is not given, it's no longer a gift. If we just hold onto it, it's no longer a gift. It is only when we let ourselves be a GIFT to others, we live out our calling in life.
Don't focus on what you can do. You will only feel inadequate. Focus on WHO YOU ARE first. What kind of person are you? What is your DESIRE? To serve? To encourage? To create? All these 'gifts' are character-related. How have others AFFIRMED you in the past? In WHAT WAYS can you be a gift to others?
You don't need to be perfect in order to be a gift. You don't need to have everything put together. All you need is to follow that desire in your heart to be a gift. All you need to do is to give yourself completely. Some of you have done that already. Do it with all your heart. God will take care of the rest. God will shape you and mould you in his grace. As you learn, grow, and mature, your gifts will also manifest in different and newer ways.
We have begun a new year of Hi-C together. At the retreat, I reflected on how we are not just a 'friend' group. We are the BODY of Christ. We have many different members, but we all belong to each other. God has brought us together to BLESS each other. In order for us to grow together as a community, we need to be a gift to each other. So today, I want each of you to think about HOW you can be a gift to this community.
If you are someone who is musical and likes to praise God, be part of the praise team. If you are someone who likes to talk to people and make them feel welcome, be part of our welcoming team. But you don't have to serve on a team to be a gift either. You can be a gift in your own unique way. Just don't hold yourself back—that's all I'm saying. Don't deprive others of a blessing that you are. Be the GIFT that you are meant to be. ALLOW YOURSELF TO SHINE!
You are the light of the world. A town built on a hill cannot be hidden. Neither do people light a lamp and put it under a bowl. Instead, they put it on its stand, and it gives light to everyone in the house.

Matthew 5:14, 15
You are a gift. You are meant to be a blessing for others. Never forget that. Don't let yourself get carried away by the values of this world. You as a PERSON are worth much more than what you can do. When you allow yourself to shine, it brings God the greatest joy. Give yourself, and God will help you blossom. Hi-C will be a GIFTED community.
Discussion Questions
What resonated with you from today's message?

How can you be a GIFT to the Hi-C this year?

How would you describe yourself as a person?
What are some of your desires?
How have others affirmed you in the past?