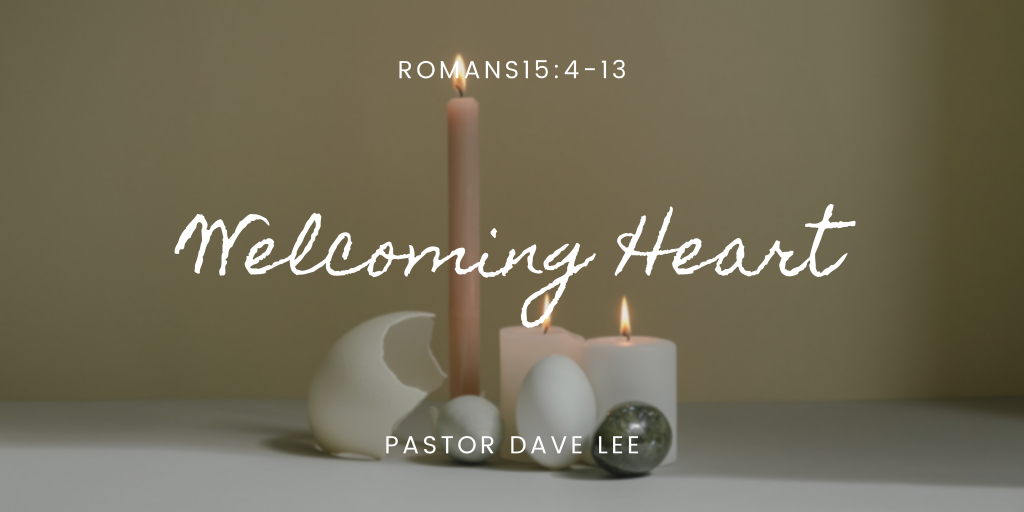 Scripture Passage
Romans 15:4-13

4 For whatever was written in former days was written for our instruction, so that by steadfastness and by the encouragement of the scriptures we might have hope. 5 May the God of steadfastness and encouragement grant you to live in harmony with one another, in accordance with Christ Jesus, 6 so that together you may with one voice glorify the God and Father of our Lord Jesus Christ.

7 Welcome one another, therefore, just as Christ has welcomed you, for the glory of God. 8 For I tell you that Christ has become a servant of the circumcised on behalf of the truth of God in order that he might confirm the promises given to the ancestors 9 and that the gentiles might glorify God for his mercy. As it is written,

"Therefore I will confess you among the gentiles and sing praises to your name";

10 and again he says, "Rejoice, O gentiles, with his people";

11 and again, "Praise the Lord, all you gentiles, and let all the peoples praise him";

12 and again Isaiah says, "The root of Jesse shall come, the one who rises to rule the gentiles; in him the gentiles shall hope."

13 May the God of hope fill you with all joy and peace in believing, so that you may abound in hope by the power of the Holy Spirit.
Sermon Script
We have our LIKES and DISLIKES. We naturally gravitate toward certain things and not others. We don't even know why at times. But we do. We have our tastes and our preferences when it comes to food, drink, music, books, movies, and so on. They are unique to each and every one of us. The choices we make are shaped by our likes and dislikes.
We tend to take the same attitude when it comes to PEOPLE. We naturally gravitate toward some people and not others. We don't even know why at times. But we do. We like people with whom we get along easily and who make us feel good. We don't like people whom we can't get along with as well and who make our life difficult. Our preferences determine who we let in and who we keep out. That's our reality.
But people are not just things. They are human beings. They are unique, complex and precious. Our attitude towards people should go beyond the attitude that we have about things. St. Paul said—
Welcome one another, therefore, just as Christ has welcomed you, for the glory of God.

Romans 15:7
We should have a welcoming heart towards each other. That is the responsibility we have as human beings. That is our calling.
Then what does it mean to be welcoming? It's helpful to look at the NIV translation.
Accept one another, then, just as Christ accepted you, in order to bring praise to God.

Romans 15:7 (NIV)
St. Paul wrote these words to the Gentile Christians. Gentiles were non-Jewish. For the longest time, they were seen as 'unclean' by the Jews. Jewish people believed that they weren't part of God's people. But when Jesus came, he shattered their prejudice. He revealed the truth of God's promise to Abraham. That Gentiles were also God's own people and the recipients of his blessings! St. Paul saw how through Christ, God tore down the wall of hostility that divided the two groups once and for all.
For he himself is our peace, who has made the two groups one and has destroyed the barrier, the dividing wall of hostility…

Ephesians 2:14
In love, Jesus overcame hostility. He accepted those whom people thought weren't acceptable. He showed us how to treat others with a welcoming heart. As he welcomed and accepted us, even when we were at our worst, we are called to do the same for each other. Isn't that what St. Paul said?
Welcome one another, therefore, just as Christ has welcomed you, for the glory of God.

Romans 15:7
In that sense, welcoming one another isn't always easy. It's not just a matter of saying 'hi'. We don't get to decide who we welcome. We welcome whoever God puts in front of us. We do it even when the other person inconveniences us. We embrace them and persevere with them in love.
Bear one another's burdens, and in this way you will fulfill the law of Christ.

Galatians 6:2
I find St. Paul's words to be so timely. We are living in such a divisive time. In some countries, differences are suppressed in favour of a coerced unity. Covid protest in China was people's resistance to this. In others, differences are exaggerated to a point that people have lost the ability to live together in harmony. "You don't bother me; I don't bother you" This individualistic mindset is rampant in North America. We have lost the spirit of truly welcoming one another.
Welcoming is not just about the words we say. It is about the heart that we relate to others with.
In this Advent season, let us cultivate a welcoming heart. In Christ, God has welcomed and accepted you. God has shown his love for you in that way. Let us welcome one another as Christ did.
Church is where the welcoming heart should overflow. I often hear our newcomers say how welcoming St. Tim's is. I hear the same about our Hi-C too. Welcoming empowers people. It breaks down barriers that keep people isolated. When we welcome one another, we glorify God. We reflect who God is and what God's love is like. That is how church can shine as a beacon of light in this world.
Remember to bring your welcoming heart wherever you go. Welcoming is a LIFESTYLE. Go beyond the walls of the church. Welcome those you meet along the way. We are doing a Christmas outreach at the end of the month. It will be a wonderful opportunity for us to welcome the weak and the vulnerable in love, without judgement.
Welcoming heart exudes warmth. Welcoming heart brings peace and harmony. Welcoming heart makes the world brighter.