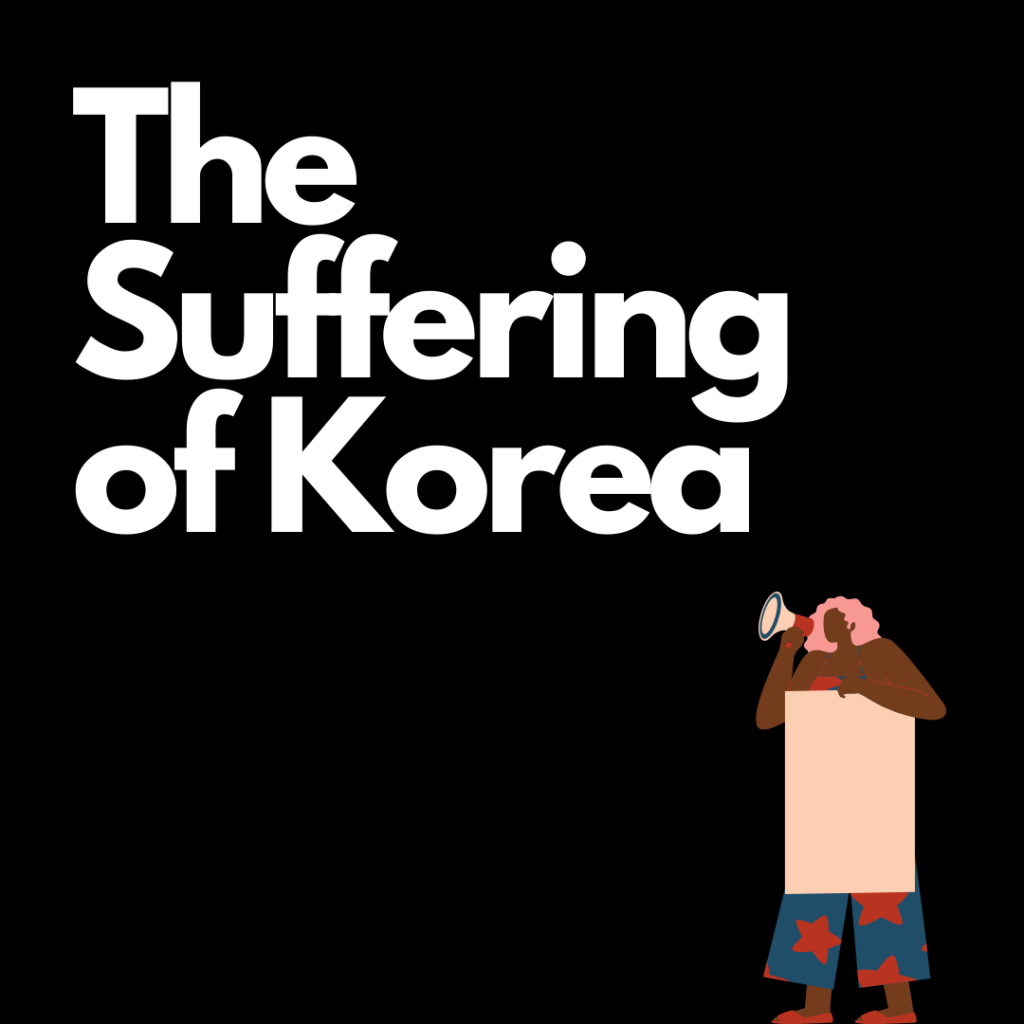 This is a post in a series of reflections for the Black Lives Matter movement. To read other reflections, please go to the 

Black Lives Matter

 page.
Introduction
The summer interns have reflected on "The Suffering of Korea". This reading provided background knowledge on the history of suffering that Koreans have endured, and also went into depth on how Christianity grew in South Korea after the Korean war.
---
Joel Kim
Today's reading got me interested, it mentions that after the Korean war Christianity was introduced and made a big impact in Korea, and which made me wonder that if something bad after experiencing war that faith can still restore peace, and all that's happening in America, if instead with using violence and rioting and having more of a peaceful and having negotiation have a different outcome of the same outcome even if we used violence? Which gets me asking if after all this if they get what they want or they don't would their relationship between the citizens and the police be the same or would they be able to make amends and start a new way and protecting and serving the citizens without racial profiling, and would this also change other people's views and getting rid of white supremacy and make more if a diveresed community?

Another thing that sparked me was that it mentions That people that are oppressed, racialized and discriminated against should be the ones that should seek for justice, which reminds me that people in America both wealthy, poor and all those who were oppressed stood up against the government for a cause that they believed in. It surprises me that celebrities like Tyler the creator, Michael b jordan, and etc. That went to protests, which brought both the poor and the wealthy much closer which isn't something I have seen in the past few years or I haven't been paying attention.
David Kim
I've always heard the many stories of the suffering and pain that Koreans had to endure throughout our history, a history with tragic oppression. Due to that, Koreans have developed a strong work ethic and an almost innate ability to adapt to their environments, which have both led to Koreans being successful across the world. What I never thought about until today was the other effects of enduring such oppression and having such a success-driven mentality. The movie Parasite artistically showed the class divide in South Korea; the rich who have finally achieved their dreams and want to alienate themselves from the poor versus those in poverty who are the rich's last reminder of their past struggles and hardships. Instead of showing empathy and understanding for those struggling, those in power almost want to distance themselves from their past and live in their own world of comfort and success. You would think those who suffered the most and are now prosperous would be the first to empathize and come to aid those struggling, but human nature proves this isn't always the case.

As Ghandi stated, "suffering is an inevitable condition for life", suffering is a part of human life. As I began to reflect on this statement, I realized that throughout history, humans have all suffered and faced hardships. From this suffering we change; whether it be making rules/laws, inventing tools, changing our benefits, etc. we learn from our hardships to seek a comfortable life. Through this we learn to truly celebrate life, be thankful and find happiness once we finally are free from this suffering. Now as the 2nd and 3rd generations of Korean Canadians who are lucky to not have to endure that suffering ourselves, I believe it is our responsibility to remember the suffering of our grandparents and those who came before us and learn about our history. This way we can learn to help those in suffering, empathize with them and give them our support.
Emily Kim
Today's text and discussion gave me a different perspective on social change and structure of both our modern world and our history. I'll be the first to admit that I'm not really a history buff, I've never found it particularly interesting. I think I always subconsciously understood the importance of being educated on history but I never really admitted it to myself until today because then I would have to take the time to learn about it. I think one of the most prominent common themes in any culture's history is the existence of suffering. Whether it be the nation as a whole or a particular group of people within a nation, every modern country has had origins of suffering. It makes perfect logical sense since suffering is a fundamental part of the human experience, what it means to be human and what makes us human. Even those who have never faced any explicit suffering will often suffer those most internally because suffering helps us grow and mature into beings that are able to survive in this world.
I found the idea of proper leadership for change to be very interesting. I think before reading and reflecting on this text, I would always look to and believe that it was up to those in power to make the world a better place. In my mind I couldn't understand how those who received so much from their society were unable to give back and take care of it. While this belief is good in principle, I'm starting to realize that it is quite naive and doesn't factor in human nature and our tendency to become corrupt with power. Those who have alot become limited in their perspective of the world, viewing the world's iniquities as a reflection of certain individuals' own inadequacy rather than the inadequacies of people and our society as a whole. If I'm being totally honest, I often daydream about attaining lots of power and wealth and becoming a philanthropist. To be able to live a comfortable life but also make a huge positive impact on the world seems like the best possible life, but unfortunately this is, in a way, a delusion. The fact of the matter is that I am far more likely to become overly possessive and greedy with my wealth and power and become unwilling to share it. I understand now how the responsibility for change falls on those who have suffered greatly and don't sit at the top of the hierarchy. Only those people are able to channel their human benevolence and be leaders of change.
Kaitlin Lee
Today's discussion really opened my eyes to the way Koreans have been affected by their past and their methods to dealing with suffering. It was honestly a little saddening to hear that Koreans are dealing with the past by hiding it, as if to say that their struggles are only behind them and they are better people who will not fall victim to such events ever again. It really does feel like they are suppressing memories of the past out of pain and a growing sense of pride in their abilities today, when I would have liked to see how they could embrace their struggles and grow as a strong nation not through power of wealth, but power of identity and character like those of the Afro-American community. In relation to the Black Lives Matter movement, I do believe this is the opportunity for Koreans to join as allies that have endured their own struggles in life and prevent others from facing the same pain. As Ham Sok Hon said, it is our mission to take charge of the world's iniquity as equals. This is not something Britain or America can cope with – and I found this to be particularly interesting, as those two are often seen to have great power compared to others. Yet, it is the Koreans who have the ability to right the world. Those who are equal to the ones who have not been blinded by greed and hunger for power and things, but those who have built strong moral character in the midst of a life full of hardship. This was very empowering to me, this reassurance of the infinitely more meaningful power that Koreans and Africans and other equals bear as they have endured suffering.

I hope that Koreans can really see that we, as those who understand this suffering, can stand as equals and fight for justice. I feel like we are slowly succumbing to the greed for money and power, blinded by value we put onto material things when those truly aren't what leads to power and success. I wish for Koreans to join Afro-Americans in success at being confident in who we are and developing a strong identity through love, care and serving so that we can see the richness in life that comes from our culture and past experiences. We have a lot to learn from the Afro-American culture in this aspect, as they have embraced their suffering and live vibrant lives while serving others despite the injustice they face. This mature moral character is something I hope for all of those who recognize this mission in life so that we can truly make a change.
Paul Jang
After this reading on the history of the suffering of Korea, it opened my eyes to some of the Korean culture that I previously thought was non-existent or forgotten about. These heroes the author talks about are really cool to learn about since it isn't really taught in our Canadian education system. Chon T'aeil, who immolated himself for the cause of inhumane working conditions, Ham Sokhon, who was considered Korea's Gandhi. I'm sure these are just a few of the names of the heroes of Korea, which is something I did not realize they had until after reading this text. When you think of the west, instantly many characters will come into mind: John A. Macdonald, George Washington, Martin Luther King Jr., etc. I don't really know why but it never occurred to me that Korea and all other countries would also have these types of characters, and it is something I think I will further research on my own as it really interests me. I think that learning more about the history of Korea and how it came to be today, will strengthen my Korean identity, rather than just my Canadian one.
Anyways, one part that stuck out to me about the actual suffering of Korea was how Ham saw Korea's history as full of suffering, and how he felt that it was important for people to find the meaning of their suffering. I really agree with this idea of his as although I haven't really had much suffering in my life, when I have faced struggles although usually it was not right away, after some time of suffering and reflecting I have always come out of these periods of struggling, stronger and better than before. Ham compares Korea to an image of "a beggar girl who, chased by village urchins, ran away, and hid herself and then finally collapsed on the street, crying her heart out." This image really embodies the soul of many of the Korean peoples, for centuries Koreans have been oppressed by neighbouring powers, taking a toll on the people's psyche. In a similar way to the African-American peoples, Koreans have always been feeling inferior to its bigger neighbours. However, unlike the African-Americans who are still being oppressed in more subtle ways, the average South Korean may feel like they are being oppressed in a different way. In 2017, the president of South Korea was ousted for her corruption, bribery, abusing state power and leaking state secrets. When this scandal first broke out, there were mass protests calling for President Park to step down, fuelling a growing discontent against the political elite and the family run conglomerates that run the Korean economy. This issue is likely not finished with the ousting of President Park however, and I hope that Koreans can stand up for what is right and defeat the forces of iniquities.
Caitlin Chung
Unfortunately, as I've mentioned before, I wasn't able to reflect and read the passage as thoroughly as I would've wanted to. School has been getting busy, but luckily this is the last week of pain, so for future studies, I think that I'll be much more engaged. Even though I wasn't able to take that much time reviewing the text, it was quite simple to understand. I found that the author's points were very insightful, and as much as the author taught me about Korean history, he gave me a new perspective as well.
In the beginning of the text, the author talked a lot about religion, and how it has affected Korean people. The fact that many Koreans turned to Christianity for redemption and consolation was no surprise, but hearing how other religions influenced Korean Christianity was very interesting. Koreans have been oppressed, humiliated, and stripped away of their rights. I feel like Christianity is a religion that many people turn to during times of trouble, but for Koreans, it was much more relevant, and in a way, much more helpful. What I thought was eye opening and educational, was the part where he explained that Confucianism is so deeply rooted in the Korean society that it has strongly influenced their spiritual practices. On the topic of religion, I liked how he explained how ultimately all religions are one, and that there is not necessarily only one true religion. I've never thought of Christianity as the one tru religion, but I've never thought of all of them being somewhat connected. We are all part of human kind, regardless of race, religion, or social status, therefore, we must struggle and fight together against the worst effects of our world.
The most vivid image I've had, from reading this text, was from the part where the author explained their perspective of the old woman, and compared that to Korea. It's so upsetting, yet the harsh reality that Korea suffered through so much, and was never pitied or rescued. We were severely oppressed, and handled like a thing, and treated like animals. It feels like we've carried the burden of all of society's faults, and we deserve some respect.
I also really liked the parts where the author explained the meaning of suffering and its impacts on every aspect of our life. I believe that suffering is a principle of our life, because I think that it teaches us how to be compassionate and involved. It gives us wisdom that no other experience could offer, and it makes everything else in life so much more precious and beautiful. Just as we can't have light without darkness, suffering helps the light in our lives shine much more brightly.
Lastly, I really like the author's insights on power and wealth. Korea is basically history's sewer of all of the world's worst effects, as he mentioned before, yet that gives us the most important role of changing the world. No one else can bring change and tackle the issues we have on hand other than us. I liked the quote, "Wealth and power may promise success, but will they eventually end in failure." We can't solely strive for those shallow things, we must take the time to reflect on what we truly need for stable growth.
Sarah Choe
I feel like I learned a lot from the discussion today, but I haven't completely absorbed everything we went over. The first thing that stuck with me was acknowledging Korea's past pain and suffering as something that I also have. I guess by not being born there and having a more Canadian culture has made me feel like I didn't have access to the feelings that my ancestors went through. I also think I wasn't as aware of the suffering Korean people went through because of how prosperous the country has become and popular Korean culture is becoming. The way Korea was described made me see just how much suffering our country went through and how different things were just a few decades ago. I think I also understand more of the behaviour of Korean people in general. After being oppressed and trampled over repeatedly, showing the world that we weren't broken was important, which is why we adopted Western Christianity instead of appropriating and making it our own.
Another thing that stood out to me was the view of Korea's suffering that was presented by the author. We shouldn't pity ourselves or look down on ourselves, instead we can change the world by recognizing the suffering we went through and making sure it doesn't happen to others. Korea suffered like the Israelites in the Bible suffered – due to the power of neighbouring countries. However, God made them agents of change and good will. I hope that Korea can be the same, but I guess I question if Korea will. Will our ambition stop us from helping those in need, especially if it won't benefit us at all? I think I also have to examine my own perspective on my own power to create change. Something I've struggled with since we've been talking about the Black lives matter movement has been my own powerlessness. However, through the acknowledgement of Korea's suffering as my own, I can see how my own ability to recognize and sympathize with others' suffering can be improved greatly. I think this empowers me to feel like I'm not alone in my anger or action. I think I feel more responsible to support other people who are facing oppression and who are suffering, which I think will help to motivate me for a long time. Feeling angry for other people seemed to eventually lead to helplessness and indifference. But this feeling of responsibility is something that will stick with me and keep me going.
Charley Ngo
I think the thing that stuck with me the most was about suffering being a principle or human life. I think a question I have a lot is why God would let the world go through so much suffering. Recently I feel that I have a better understanding of why suffering is necessary. By going through suffering you grow and build character. I like the idea of needing suffering to have a scale to compare good and bad with. If there was nothing bad in the world, then we really wouldn't know what good is because we have nothing to compare it to. Then something good wouldn't really feel good. What is a shame is that some people have to carry the suffering more than others. It feels selfish to be grateful for things because I see what other people don't have.
One thing that I would like to do is to find that thing to "stake" my life to. I want to search and struggle for this. I feel like it would give me more purpose and direction in my life, but will definitely take some time to find. I wonder what it feels like to have something that you feel so dedicated to. I also wonder if this thing has to relate any world issues and if it does would I have to contribute on a large scale. If I want to live a quiet life, can I still find that thing? In a way this thing kind of makes me burdened. I feel like I have to find something to do that will make my life meaningful and in a way worthwhile.
Lauren Lee
I really enjoyed reading about Korea's history of suffering. Time to time I've been interested in learning more about the deep history of Korea and what our ancestors had to endure. I've always dreaded learning about history, but something about learning the culture that I come from sparked an interest in me.

One thing that stood out to me was how embedded Confucian teachings are in the Korean culture. There is an emphasis placed on the importance of family, we cherish peace and harmony, and high value is placed on traits like honesty, loyalty, frugality, and most notably, hard work. I can see this reflected in Koreans today. We are people who have a benevolent nature. The suffering we went through made us understand one another, we care for each other and show kindness, we have this kind of warmth. In Korean, it's called 정 (Jeong). But, in other ways, because of our insecurity and having gone through all the suffering, we took on the most undesirable traits of the East and West: passivity, conservatism, acquisitive and predatory aspects, to name a few. 한 (Han) is so deeply embedded in our culture, the grief and resentment all stemming from the long suffering and loss of power.

Like Christ, like Martin Luther King Jr., like Ham Seok Heon, the oppressed are "a lonely voice in the wilderness". We may be a lonely voice, but history has shown us that this lonely voice is not just one voice. Ham says our global mission is to elevate world history to a higher plane by taking charge of the world's iniquity. We must put everything we've got into discovering things for ourselves; who you are as a person and what you're going to contribute to this world. Ham said that without knowing who you are, it is very difficult to know what to do. I hope that through this new knowledge, through our benevolence, and through knowing our roots, we can really take charge of the world's iniquity and endure. Through endurance will come true freedom, true happiness, and true victory. I pray and have faith that we will have this endurance and work together, transform our hearts, and create meaningful change in this world.
This is a post in a series of reflections for the Black Lives Matter movement. To read other reflections, please go to the 

Black Lives Matter

 page.