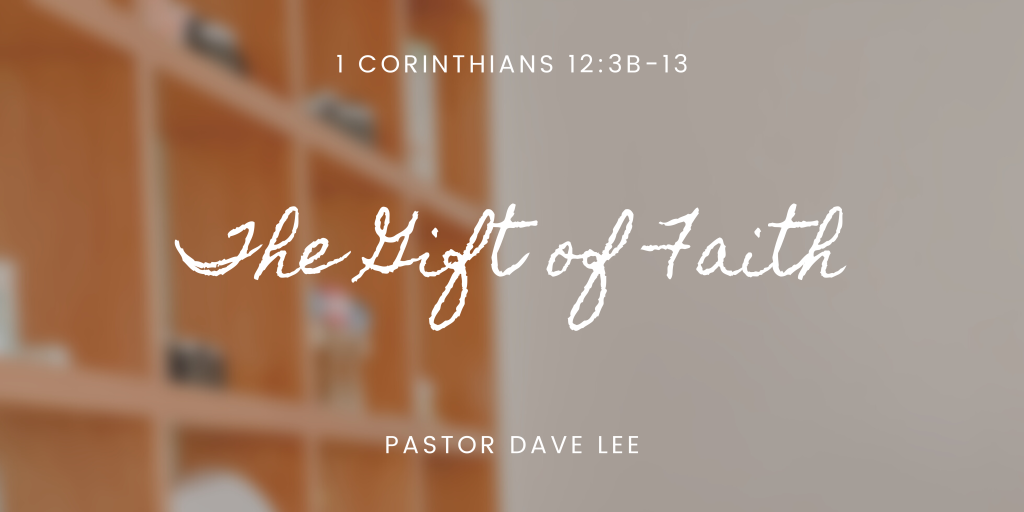 Scripture Passage
1 Corinthians 12:3b-13

No one can say, "Jesus is Lord," except by the Holy Spirit.

4 There are different kinds of gifts, but the same Spirit distributes them. 5 There are different kinds of service, but the same Lord. 6 There are different kinds of working, but in all of them and in everyone it is the same God at work.

7 Now to each one the manifestation of the Spirit is given for the common good. 8 To one there is given through the Spirit a message of wisdom, to another a message of knowledge by means of the same Spirit, 9 to another faith by the same Spirit, to another gifts of healing by that one Spirit, 10 to another miraculous powers, to another prophecy, to another distinguishing between spirits, to another speaking in different kinds of tongues, and to still another the interpretation of tongues. 11 All these are the work of one and the same Spirit, and he distributes them to each one, just as he determines.

12 Just as a body, though one, has many parts, but all its many parts form one body, so it is with Christ. 13 For we were all baptized by one Spirit so as to form one body—whether Jews or Gentiles, slave or free—and we were all given the one Spirit to drink.
Sermon Script
One thing I love about church is how diverse the people are. I'm a pastor, so I might be a little biased. But you don't find this kind of diversity anywhere else. You come across people from all walks of life. You see people of all ages, from young to old. More importantly, you get to journey with them. You don't really get that kind of experience at school or work. Sometimes I hear some of you say that the kind of relationships you have at church is very different. You feel that they are more meaningful. Being part of a faith community is itself a unique experience.
When you are in a diverse community, you won't only find a diverse group of people. You will also find a diversity of talents and gifts. You will find those gifts being used for the greater good of the community.
Last month, we had our Mission Dinner. It was our first one in almost 4 years. Mission Dinner requires a lot of detailed planning and execution. In that one event alone, you saw so many people coming together and sharing their gifts for good. We had our musicians. We had talented chefs preparing meals in the kitchen. We had friendly and hardworking servers on the floor. We had an entertaining MC for the evening. There were moments during the evening when I thought, "How wonderful this is!" God always provides. I was physically tired, but it gave me lots of energy to carry on.
We also hear about gifts in today's passage. St. Paul tells us this—
There are different kinds of gifts, but the same Spirit distributes them. There are different kinds of service, but the same Lord. There are different kinds of working, but in all of them and in everyone it is the same God at work.

1 Corinthians 12:4-6
The Greek word for 'gifts' here is 'CHARISMATON'. It comes from the word 'charisma' and is related to 'charis'. 'Charis' means GRACE. Spiritual gifts, then, are what God has blessed each and every one of us with by his Spirit, so that they can be a blessing to those around us who need them. The fact that you see such a diversity of gifts around you is no random accident. It is God's gracious doing out of his love for his community.
Some of you might say, "I don't know what my gifts are." Some of you might have a sense, but not entirely sure. You may feel inadequate. You may think that other people are more skilled and talented than you. And that often becomes our reason to NOT share ourselves when an opportunity arises.
Not knowing what your gifts are is okay. It takes time. Our gifts are meant to be discovered. They are like seeds hidden within you, waiting to burst open and bear fruit.
Your gifts may not be one of the gifts that St. Paul mentions in the passage. His list is not supposed to be final. St. Paul believed the Spirit can work in countless ways. What you see in today's passage is only a handful of examples. But it still tells us something very important.
St. Paul mentions 9 spiritual gifts in today's passage. I've listed them in order: Wisdom, Knowledge, Faith, Healing, Miracles, Prophecy, Discernment, Tongues (speaking in spiritual language), Interpretation of tongues.
There is one gift in this list that differs from the rest. Look carefully. Which one do you think it is?
It is the gift of FAITH. Healing, miracles, prophecy, discernment, tongues, and the interpretation all involve some kind of action (or doing). Faith, on the other hand, is what believers all share. It opens our eyes to see those gifts, in ourselves and others. Wisdom and knowledge may seem similar to faith. They don't involve any kind of action per se. But without faith, we cannot come to a deeper understanding of God and his wisdom.
Faith is a gift. God gave us this beautiful gift through his Spirit. To me, faith is not only about trust, but COURAGE as well. With this gift of faith, we can discover those other gifts that God has blessed us with and allow God to use them to bless others.
Jeremiah, for example, had the gift of prophecy. He was a prophet. We usually think prophecy as predicting the future. To be exact, being prophetic has to do with being able to see clearly what's happening in the present and envisioning a more hopeful future.
When God called Jeremiah, he didn't respond with enthusiasm. He was full of doubts. He didn't think he was the right fit. He thought he was too young and inexperienced. He didn't think he was a good speaker.
"Alas, Sovereign Lord," I said, "I do not know how to speak; I am too young."

Jeremiah 1:6
Isn't this how we usually respond when we are faced with an opportunity? When I first asked Caitlin to be an Exec, she thought she was too young and unfit to be one. When I asked Junie to be part of the worship dance on Good Friday last year, she almost quit because she was too nervous. We always come up with reasons why we shouldn't do it. We think the time will come when we feel ready and prepared. That itself can be an excuse too.
In order for Jeremiah to discover his gift as a prophet, he had to face the opportunity with faith. This was how God responded to him—
Do not say, 'I am too young.' You must go to everyone I send you to and say whatever I command you. Do not be afraid of them for I am with you and will rescue you.

Jeremiah 1:7, 8
In order for us to discover our gifts and who we are, we must learn to meet the opportunities that God presents us with faith. God will grant us the faith to take our step into the unknown. Just as he provided Jeremiah with the words to speak, God will provide us with what we need to be a blessing to others.
What God needs from us is not our perfection. We are already precious in God's sight. What God needs from us is our willingness and openness. When we are open and willing, God can do wonders through us.
We are heading into our last 3 months of the year before the new Hi-C year begins. There will be a significant transition in our group. Our grade 12s will be moving on to university. Many of them have been serving the Hi-C over the years. That means we will need some of you to step in and take ownership of our group in the new year.
In the next few months, you may face some unexpected questions and opportunities. Rather than running away from them, consider prayerfully. If God is stirring something in your heart, listen to it. You will feel a mix of excitement and fear. With the gift of faith God gives you, take on the opportunity. Face the unknown with courage and let God use you for the greater good of our community.
At the end of the day, it is not about 'me'. It is about seeing how God brings unity through the diversity of his people. As St. Paul says, we are one body with many parts.
Just as a body, though one, has many parts, but all its many parts form one body, so it is with Christ. For we were all baptized by one Spirit to form one body—whether Jews or Gentiles, slave or free—and we were all given one Spirit to drink.

1 Corinthians 3:12, 13
Only the Spirit of Christ can bring that kind of unity. The joy we experience will be more inspiring and empowering than any self-praise can bring. That is the meaning of the Pentecost.