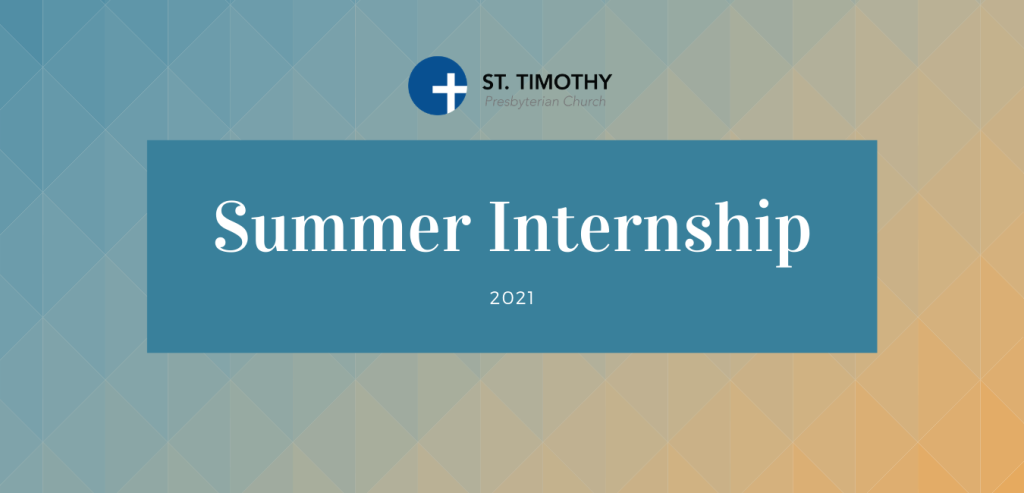 Are you interested in a stimulating and exciting summer? Ready to hone your skills and contribute in innovative ways? Then consider our St. Timothy Summer Internship for 2021.
25th Anniversary History Project
This year is the 25th Anniversary of St. Timothy Presbyterian Church. The project centres around capturing the history of this community.
This project will capture pivotal moments in the history of the church, personal experiences of members, and how the church has shaped them. The project will also reflect on the broader context of Korean immigration to Canada, and how the church has responded to the evolving character of the community. It will also look forward to what may lie ahead.
The final outcomes of the project will include: video documentary of the church that includes interviews and photos, a book publication about the history of the church, visual photo boards and materials for display around the church, and the publishing of all materials on our website. It is a truly multi-media project that will involve many different skills, and will cultivate many such skills in the youth who are hired.
Job Details and Descriptions
Who is eligible to apply: anyone between the ages of 15-30
Job Title: Project Team Leader
Number of Positions: 1
Duration of Job: May 3 – August 20 (16 weeks), 35 hours per week
Job Title: Project Manager
Number of Positions: 5
Duration of Job: May 31- August 20 (12 weeks), 25 hours per week
Hourly Wage: $14.25/hr
Tasks and responsibilities of the project managers will include:
drawing up lists of members to contact
reaching out to members and arranging interviews
preparing equipment (video, audio) for the interviews
preparing for interviews; travelling to and from locations for interviews
editing video recordings of interviews
creation of documentary video production
researching and documenting chronology of the community
writing
publishing content on website
promoting content via social media
editing and publishing a book
creating visual materials for presentation in the church
To Apply:
Submit responses to the following questions (500 words maximum in TOTAL):
What about this job interests you?
In what way will you contribute to the work and the team?
Send application to: esm@timothypc.com
Deadline
April 30, 2021 by 5pm
(If you're interested in the Project Team Leader position, please submit earlier, by April 27 at 5pm)