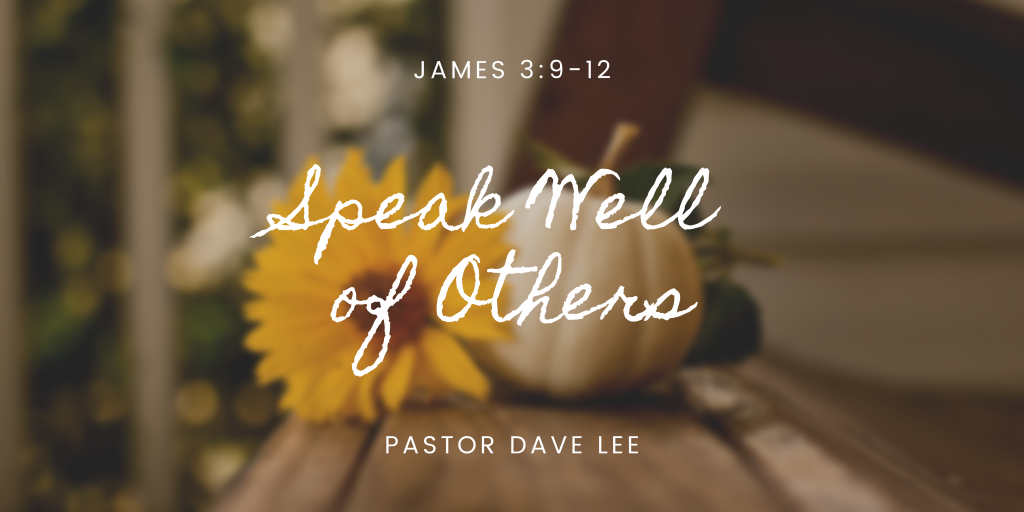 Scripture Passage
James 3:9-12

9With the tongue we praise our Lord and Father, and with it we curse human beings, who have been made in God's likeness. 10Out of the same mouth come praise and cursing. My brothers and sisters, this should not be. 11Can both fresh water and salt water flow from the same spring? 12My brothers and sisters, can a fig tree bear olives, or a grapevine bear figs? Neither can a salt spring produce fresh water.
Sermon Script
Words are God's gift to us. With words, we can COMMUNICATE with each other. With words, we can EXPRESS OURSELVES in a meaningful way. With words, we can INSPIRE and ENCOURAGE others.
Words have the power to do what is good, but they also have the power to do what is bad. Words can be a gift, but they can also be a WEAPON. Words can build up, but they can also TEAR DOWN. When they are used carelessly, words can affect people in a profoundly negative way. They may not leave a visible scar on the outside. But they leave a lasting scar on the inside.
That's why someone once said
Be careful with your words. Once they are said, they can be only forgiven, not forgotten.
We can think of many ways we use our words in a negative way. But I want to focus on only one today. It is something we all experience, especially in school. Whenever two or more people gather, this always happens. That is GOSSIP.
Let's be honest. Who hasn't gossiped? We all have. And we've been the subject of other people's gossip. Even if we don't know about it, chances are that we were. It seems that no matter who you are or where you are from, we like to talk negatively about other people.
Then why do we gossip? We know we shouldn't, but we do it anyway. When someone else comes up in a conversation, you can't help but talk about them. It can go on for a while. We don't like it when other people talk about us behind our back, so why do we do it when it comes to them? Just because it's fun?
Because it makes us feel better about ourselves. When we gossip, we paint others in a negative light. By doing that, we make ourselves look better, and it feels good to do that. That's why we don't care if what we are saying about the other person is true or not. We end up spreading more rumours than facts. As long as it puts me in a better light, that's all that matters. We don't think it's that bad – because they are just WORDS.
Gossip never does any good. Gossip BETRAYS trust. Gossip DESTROYS relationships. Gossip DIVIDES an entire community. It can be our friend group, our families, or even our church community. Gossip is like a WILDFIRE. It may start small, but it can engulf our life instantly.
Gossiping doesn't show us how great we are, It only shows how INSECURE we are. We gossip in order to validate ourselves. Confident people don't gossip. Confident people LIFT OTHERS UP with their words. They do it whether the other person is around or not. Rather than affirming themselves, they affirm other people. We can do the same with our words.
In today's passage, James talks about the tongue. He talks about how we use our words. He says that we do two very different things.
With the tongue we praise our Lord and Father, and with it we curse human beings, who have been made in God's likeness. Out of the same mouth come praise and cursing. My brothers and sisters, this should not be.

James 3:9-10
We all make mistakes when it comes to our words. James is well aware of that too. But we can choose to use our words for good every time.
Speak well of others. Instead of putting them down and exalting yourself, lift others up with your words. Few weeks ago, we reflected on how all of us are fearfully and wonderfully made. Gossiping only smears the image of the other person. If you have nothing good to say, don't say anything. See every opportunity to talk badly about someone as an opportunity to speak well of them.
To speak well of others, we need God's wisdom. God's wisdom helps us to see the good in others. God's wisdom helps us to overcome our selfish desires and seek what is best in every situation.
James says this later in the chapter
For wherever there is jealousy and selfish ambition, there you will find disorder and evil of every kind. But the wisdom from above is first of all pure. It is also peace loving, gentle at all times, and willing to yield to others. It is full of mercy and the fruit of good deeds. It shows no favouritism and is always sincere.

James 3:16-17
Your words will help others see so-and-so in a positive light. Your words will reflect SINCERITY, not hypocrisy. Your words will bring UNDERSTANDING, not judgement. Your words will lead to PEACE, not division. Let your words be like the fresh water that flows from the spring.