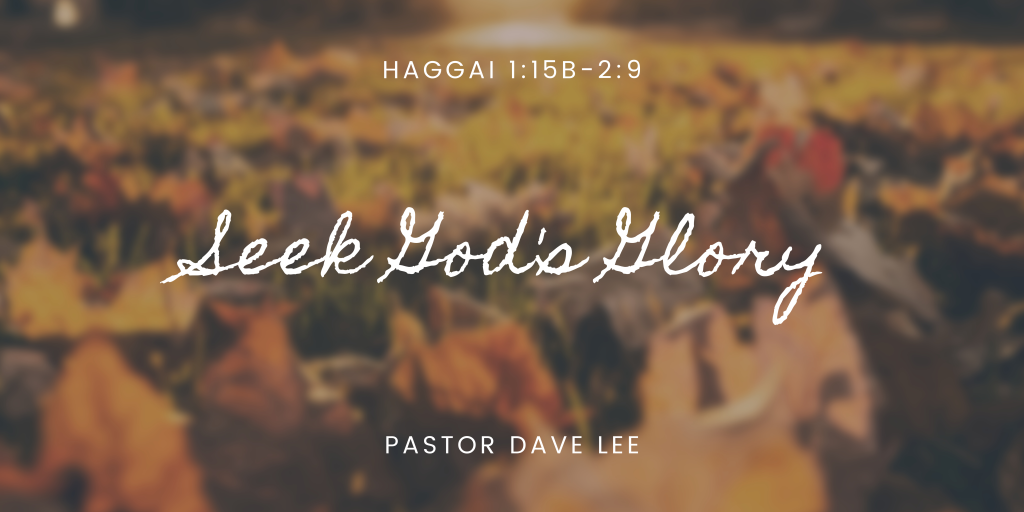 Scripture Passage
Haggai 1:15b-2:9

In the second year of King Darius, 1on the twenty-first day of the seventh month, the word of the Lord came through the prophet Haggai: 2"Speak to Zerubbabel son of Shealtiel, governor of Judah, to Joshua son of Jozadak, the high priest, and to the remnant of the people. Ask them, 3'Who of you is left who saw this house in its former glory? How does it look to you now? Does it not seem to you like nothing? 4But now be strong, Zerubbabel,' declares the Lord. 'Be strong, Joshua son of Jozadak, the high priest. Be strong, all of you people of the land,' declares the Lord, 'and work. For I am with you,' declares the Lord Almighty. 5'This is what I covenanted with you when you came out of Egypt. And my Spirit remains among you. Do not fear.'

6"This is what the Lord Almighty says: 'In a little while I will once more shake the heavens and the earth, the sea and the dry land. 7I will shake all nations, and what is desired by all nations will come, and I will fill this house with glory,' says the Lord Almighty. 8'The silver is mine and the gold is mine,' declares the Lord Almighty. 9'The glory of this present house will be greater than the glory of the former house,' says the Lord Almighty. 'And in this place I will grant peace,' declares the Lord Almighty."
Sermon Script
We human beings seek GLORY. We chase after what makes us feel extraordinary and special. We chase after BEAUTY. We chase after SUCCESS. We chase after POPULARITY. When we get a taste of it, and we want it even more. We give everything to have those things. When we don't, we get discouraged and depressed.
Israel once enjoyed a life of success. It was a glorious time. They were prosperous and well-established in society. They had power. They worshipped in a big, beautiful temple that Solomon had built. But it didn't last forever. Like that, all of it was taken away from them.
Babylon invaded Judah and took all the Israelites away from their homeland. Their temple was completely destroyed. Their identity was taken away from them. They lived in a foreign land for nearly 50 years.
After the remaining Israelites returned home, God sent the prophet Haggai and called them to build a new temple. At first, they worked hard. But it wasn't long until they started getting discouraged. The new temple they were building looked nothing like the old temple that Solomon built. It wasn't as big as the old temple. It wasn't as beautiful as the old temple. They didn't have enough money or the resources either. The glory of the old days was nowhere to be found. They eventually stopped building altogether. So God sent prophet Haggai to give them this message:
In a little while I will once more shake the heavens and the earth, the sea and the dry land. I will shake all nations, and what is desired by all nations will come, and I will fill this house with glory.

Haggai 2:7
God promised the Israelites a different kind of glory. Glory that's greater than what they had experienced before.
'The glory of this present house will be greater than the glory of the former house,' says the Lord Almighty. 'And in this place I will grant peace,' declares the Lord Almighty.

Haggai 2:9
Glory is not what we make for ourselves. Glory of this world does not last. The more we try to chase after worldly glory, the more we will feel empty. No matter how hard we work, it will feel like nothing in the end. It will always leave us wanting more.
Glory is what comes from God. Where God is, there is God's glory. When God's glory fills our life, we experience this fullness. We feel like nothing is lacking. We may not be as popular, good-looking, or successful as others, but deep down we are content and happy. We no longer evaluate our life by how it looks on the outside.
God said he would grant PEACE to the new temple. Peace in Hebrew is 'SHALOM'. It refers to the kind of peace that comes from knowing who we are and where we come from. It is assured, strong, and not easily shaken. When God's glory fills our life, we experience this shalom.
Seek God's glory in your life. Don't chase after the glory of this world. No matter what you do, you will never be satisfied. You will only find things to complain about. You will keep chasing after what can't make you happy. Jesus taught us that.
What good will it be for someone to gain the whole world, yet forfeit their soul? Or what can anyone give in exchange for their soul?

Matthew 16:26
God's glory will brighten your life. You will appreciate what you already have. You won't see each day as just 'another day'. Every moment of your life will come alive. You will live each day with joy and gratitude.
I started a weekly prayer meeting on Mondays. You're more than welcome to join if you like. I initially invited 7 people. Only 2 showed up. We couldn't let ourselves be discouraged by it. We could've complained. Instead, we shared what we've been going through and took some time to pray for each other. We felt God's PRESENCE in our midst. It didn't feel empty at all. We were thankful for each other.
May God's glory fill your life. Don't be discouraged when things don't go the way you want. Be strong. God is with you. God's spirit remains within you. You will be okay.