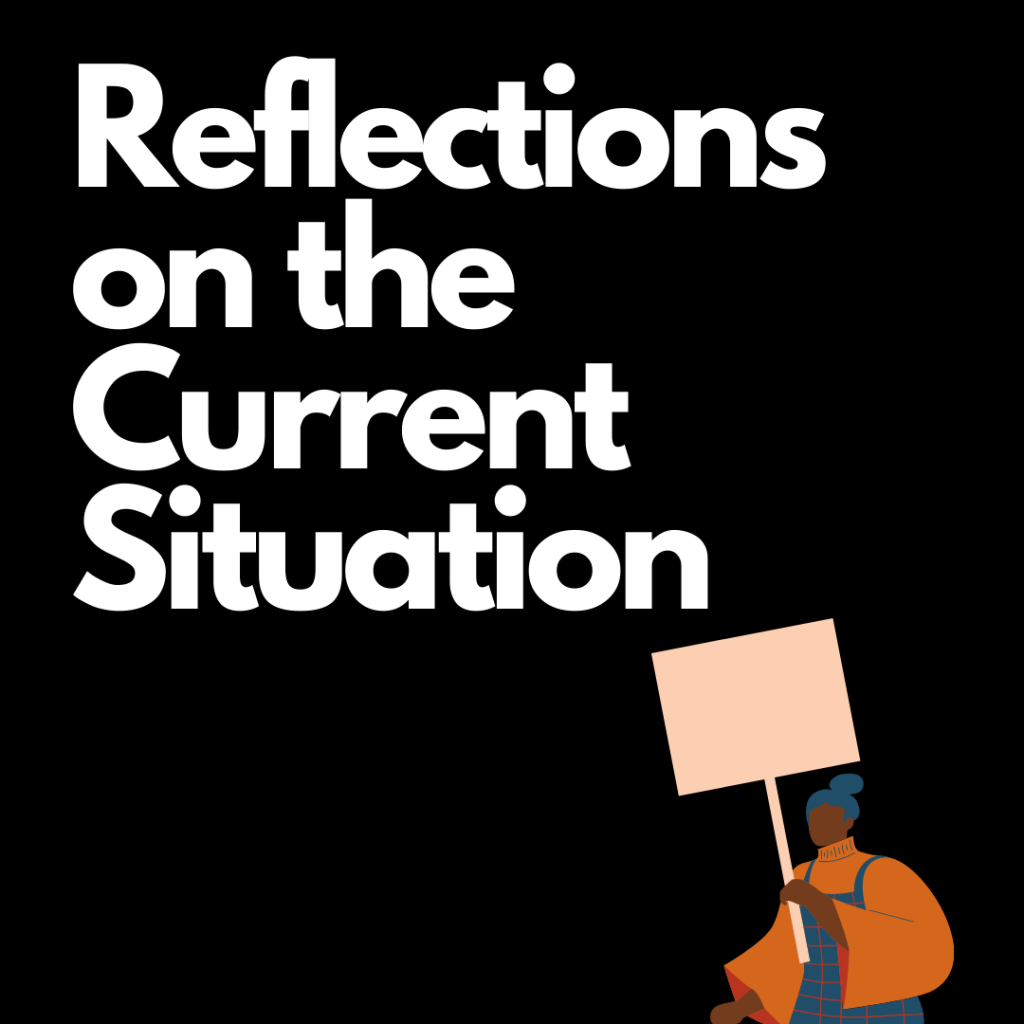 This is a post in a series of reflections for the Black Lives Matter movement. To read other reflections, please go to the 

Black Lives Matter

 page.
Introduction
In light of the current Black Lives Matter movement in the United States and Canada, the summer interns have written reflections regarding their knowledge and thoughts on the current situation. We hope that these reflections allow us all to think and reflect more critically during these times.
---
Paul Jang
From seeing all that is happening in the states right now, both on the news and social media, I am feeling pretty hopeful that things will change for the better. Although it is a sad reality, black people in the United States have historically had to fight for their freedom and rights. While change does not occur overnight, it is a good sign that people are taking notice of the black lives matter movement. After years of being systematically oppressed, and feeling like their voices are not heard, people have had enough. Now that their voices are being heard, hopefully this will lead to substantial change within society.
However, I do not feel like this is the end of the road for black peoples fight for equality, I believe it will take much more time until people of all colours are treated equally. As I see countless videos of police officers using unnecessary force and even instigating fights with peaceful protestors, I think there must be a massive restructure on how policing in the United States is handled. From the selection process, to training, and making sure police in the field are held accountable. I really do not understand what kind of training they had or even how these officers were raised leads to the many acts of unnecessary violence I see. It really is unbelievable to me that so many people, especially police officers, can hate another man just for the colour of their skin. Are these orders from higher up authorities or are these the individual actions of racist cops? One thing that interests me is how the anonymity of the police in riot gear plays a part in the violence we see. It seems like all sense of accountability disappears when they put their gear on. To me, it feels like these officers lose their sense of humanity after they put their gear on. It just does not make sense to me how you can harm other people for no reason. I pray that these protests are not in vain and that the black lives matter movement is not another social media trend.
Lauren Lee
It's hard to express exactly how I feel right now in words. But, I think the feelings that come to mind during the current situation in the States are feelings of unjustness and hopelessness. Hearing about unarmed people being killed just for the reason of being black or "being a potential threat" or whatever other excuses people make for the crimes committed is unfathomable. I can't understand how people can be like that and instill harm towards others – especially those in authority positions like the police. And I can't get it around my head why our world has to be like this. I don't understand how people in authority positions are choosing to handle this and respond. I don't understand how people believe that they're entitled or better than others just because of their race. I don't understand why racism is still so prevalent in today's society.
During these times, I can't help but feel helpless because I don't know what I can do to help the situation. I will never know what it feels to be in their shoes. I watched a video of black families the other day. The parents and grandparents were explaining their experiences and how to go about in a situation with the police to their children. It hurts to see that they have to live with this fear and learn these kinds of things in the hopes of being safe. I believe that it's times like this where we really need to come together.
I'm happy to see people becoming more aware of the situation through expressing their thoughts and sharing resources on social media. I'm sure there are many people who are sincere in their sharing and thoughts, but, I also had a question of how many people are just posting things, retweeting, and participating because they want to go along with others and feel out of place or like they'll be judged if they don't. If those thoughts and feelings aren't their own, then are they really contributing and helping to make a difference? I feel like it can quickly turn into something that comes and goes – something that's done without much thought.
I believe that this movement is a step towards making change, but I don't think it will happen right away and I'm not sure to what extent things will really change. People need to be educated and they need to be made aware. There needs to be change systematically. People's thoughts and beliefs need to be transformed and changed. But how can we do that together? I'm not too sure… I don't think violence is the answer. But, I do think that a big thing that we can do individually is just pray for healing, pray for justice to overcome, and spread love to others.
Emily Kim
Considering everything that is going on in the states but also worldwide, I have many thoughts and feelings ranging from hopeful to hopeless.
I'm hopeful because it seems as though long awaited change is finally in motion. Like the popping of a bottle cap after being under too much pressure, all the pent up anger, frustration and fear is rushing out of the black community, and their allies, in a wave of protest and violence. Seeing people of all colors, age and privilege come together, united, under a single goal of equality and love has been enthralling. There is something beautiful in seeing a young privileged white man yelling and holding up a sign reading "black lives matter". It makes me believe that perhaps genuine equality is not just a goal that humanity must forever pursue but something that could become a reality.
When reading about equality issues I will often come across the belief that by our intrinsic nature humans' will always segregate from those different then themselves. That it is almost in our biological makeup to be racist. Now there could be some truth behind this, but present events have once again strengthened my belief in humanity. Whether it be from a good upbringing, environment or education, there is living proof that the number of allies in the Black Lives Matter movement has grown exponentially, and I think that should be celebrated. People will often remark that "it feels as though society has not progressed at all" but I believe we have. Society as a whole cannot change overnight but the evidence of change is alive and well in the new generation of people who believe in equality and love for all.
Saying this, there is obviously much darkness in our current situation as well. In my opinion, violent protests were almost bound to happen, regardless of their original intent. With the center of the outrage being Police Brutality, having all the protests monitored and controlled by that same police sets the stage for tension and aggression.
The thing I don't understand is the state of anarchy that has ensued from the protests. It really made me reflect upon human nature as I watched individuals on the news smashing windows and filling their pockets in the midst of a fight for equality. How can some people's first reaction to this situation be for self serving gain? Not to solely condemn the people of color doing the looting, because all the looters – regardless of race -are detrimental to society, I can't comprehend how they are able to fill their pockets as people on the streets literally fight for their rights as human beings. It makes me think about the political theories of government and human nature. The sad reality may be that without any clear authority in place, people will turn into savages. That the only things that deter people from stealing, destroying and committing other crimes is the fear of authority and jail. I have always believed that humans are inherently selfish but perhaps it is worse than I once thought. Can humans really be naturally malevolent? Am I? I like to believe that I wouldn't ever harm anyone or destroy things purely out of desire but perhaps it is just my privilege of growing up in a safe and sheltered environment that stops me.
I also wonder how much of the violence and looting can be attributed to groupthink and conformity. Are people just getting caught up in the thrill of being part of the excitement that they have not taken a second to think logically? It is hard for me to comprehend how people can logically explain the destruction they are causing. Maybe they are telling themselves that it is all for a good cause and are twisting their actions and situations in a self serving bias.
I don't think I will ever understand but I hope that all this destruction is not in vain. That society will accelerate its journey to equality instead of brushing it aside; because what a shame, what a waste of effort, anger and people's lives it would be if nothing changed.
Sarah Choe
During this pandemic, the feeling of helplessness has been multiplied. Although many of us feel for what Black people are going through and would like to contribute, social distancing makes it harder to feel like we are making an impact. Racism and violence are huge issues, and when we are so isolated, it's hard to feel as though we can fight them at all. When I think about what happened, I feel disgusted. How can murder happen in broad daylight? We are so lucky that we have the privilege not to ever fear for our lives every day.
This event has also made me recognize my own privilege as a 'cool' Korean person whose stereotype is to be and do good for society, while Black people get killed because others look down on them and hate them because of their race. The cop who killed George Floyd has had complaints about him in the past. He is known for being violent, however, that did not stop him from killing a man. Were there no consequences for his previous actions? Why is this so clearly unjust? How can one man have so much power over another? The response to the video shows how many people feel the same way and it is good to see how many people have gone to social media and peaceful protests to show their support. Even today, there is a protest in Waterloo to show support for Black Lives Matter. Many people have donated and encouraged others to do the same.
My fear is, however, that this won't create real change. Riots have given people a reason to dislike and undermine the movement, and previously opposed people have also become present once more. In addition to this, social media has its downsides. Posting stories and images is good for spreading awareness, but at this time, where most people already know what's happening, it is action we truly need. My fear is that supporting Black people will become nothing more than a trend or something others can use to validate themselves. "I post on my instagram, therefore I have done my part" is what some might think. However, by posting on our personal accounts, we cannot reach those whose minds we need to change. Those who are still racist, have prejudice, or are comfortable with how things are right now.
I am also concerned that this will remain a trend when it comes to politics. Will people present a front just to gain votes and then half-ass truly tackling the problem when they have the opportunity? Will people still not register and vote when the time comes? I am conflicted on how to feel at the response to George Floyd's murder. I am hopeful and uplifted by the response but at the same time, I worry that a lot of it is or will become superficial. Superficial does not create change, and we definitely need change right now.
Kaitlin Lee
Currently, I feel the same anger and grief over the situation occurring in America. I feel that although responses to events/tragedies that occur regarding racism have become much louder and supported by a larger assembly, I wonder if there are any real and effective changes since the beginning of African American history. It is frustrating that events like this still occur, stemming from pure injustice. I wonder what people can do that would permanently be able to end racism and change those who are hateful to see through a different perspective.
I also feel guilty that there is not much action I can do as an individual that will bring upon big changes, and I feel even more distanced because of the COVID-19 situation. I feel guilty that I am not really taking action while just sitting safely at home, which I realize is a very great privilege, but I feel as though me joining a rally would not change anything. The protests are very uplifting to see, that society recognizes the issue of racism against the African American community must change, but I feel as though that is not enough. The awareness and support is wonderful, but there needs to be active changes or there would be no difference if everyone was silent. I don't know what I can do right now, but I hope that this action will lead to something that will change the perspectives of the racist citizens, that they may see that everyone is equal and worthy of love and respect.
When I first heard of the news with George Floyd, I actually didn't look into it right away. The first thing I thought was, "Another hate crime?" And now, thinking of this, I wonder why our world is the way that it is, that these kinds of events occur so often that this is the first thought I have. Why does racism exist? How can people be so cruel to racially discriminate against others and how have we let this happen for so long? Why can't we just fix the issue?
Joel Kim
I don't completely understand the situation in the Black Lives Matter movement, but from what I have been told from my friends and social media there are videos of groups of people gathering up protesting against the government what they believe in and want change, but there are also videos of groups of people that intentionally cause harm to the innocence and generalizing all police officers and assaulting them. They also have the intent to ruin the meaning of the Black Lives Matter Movement which mind boggles me that these people are justifying what they are doing is right, when all they are doing is setting everyone back to the start. From what I know, the American government isn't helping that much either, and all I can say from this is that I can't fully understand the pain or the fear that my friends in America know, I hope I can help them by being there for them I guess or try to find a way to help them.
Another thing that kind of disappoints me is that over few hundred of years of these movements from the past yet they are still being oppressed and some people never change or still think they have more power just having a different skin color or being a police officer, but police officers are to serve and protect the citizens yet they cause pain and suffering to them, and I know this isn't all police officer but there still some out there that abuses their power over other people.
David Kim
In light of the magnitude of recent events, its hard to really describe all the feelings and thoughts I have into words. At first I feel anger and injustice, and as I see the division and hate amongst the people I feel a sense of hopelessness. Watching small businesses (who are already suffering so much due to COVID-19 and represent the last dying thread of the American Dream) get ravaged and looted just breaks my heart and makes me think "Is this really the only way that a message can be truly felt across the world, is this what society has come to?" In 2020, more than 150 years after the civil war which includes the history of great leaders and change brought by MLK, Malcolm X and the civil rights movement, we would expect racism to no longer be such a prominent issue and it's disturbing that it is this way.
Looking back on the history of the civil rights movement brings a wave of pessimism as I think "Was all of their sacrifice and change for nothing?, why is this still a huge problem in our so-called "progressive society?" But as I begin to reflect more, I realized that maybe an equally important issue is the mindset of the people. If we all feel hopeless and feel that our voice and actions are insignificant, how can real change be brought forward? I strongly believe that real change starts from the bottom up and starts with us, the people. Change won't happen overnight and it won't be easy in any means, but as long as we the people have hope and really push for meaningful change, I am optimistic that real progress will be made.
Charley Ngo
I don't fully understand or know about the whole situation in the US. A part of me wants to just stay away and not look into it. However, I know it is important and change needs to be made.
When I first heard about what's going on, I was completely shocked. It's hard enough dealing with this pandemic and it's hard to believe that something like this has happened. We were supposed to "get through this together" and with all the violence and rioting, it feels like a step back.
With everything that society has gone through to fix the issue of racism, I feel like we've progressed a lot and these issues shouldn't come up. Yet it does. When things like this happen I start to question how far we've actually gotten and all the hard work that people have put into this movement are just wasted. It's really sad to see all the anger and hate that people have. While violence brings great attention to issues, it's hard to tell if it's really the right thing to do with all the destruction that has been done. I think that there are so many different sides and reasons for the violence that it's hard to tell who is wrong or who is right. Everything is kind of blurred. It's hard to filter out whose voice really needs to be heard and who is just doing it because.
Caitlin Chung
When people are faced with adversity, hate, and injustice, it only makes sense that they need a voice to stand up for what is right. Everybody deserves a voice, and sometimes, the only way that people will listen to you is if you fight and scream relentlessly. During these current circumstances, the amount of destruction is unbelievable, and simply out of control. Yet, this makes complete sense. Years of pent up anger, holding back, and systematic racism and oppression against people of colour have transformed peaceful protests into war zones. Although, the police are causing just as much chaos. This also begs the question of how everything started in the first place. How did this begin and how did we come to this point?
If we go way back into the times of slavery, it seems as though entitlement, and a disgusting/greed-filled mentality were the beginnings of this entire situation. It simply doesn't register in me how people are raised thinking that they are better than others, not based on intelligence, physical attributes, accomplishments, or finances, but simply by the colour of their skin. How do we really evaluate a person's value, when we are all so alike in the end. Abolishing slavery was one thing, and putting laws in place for the rights of people of colour is another, but changing the mentalities of people raised in a hostile environment, is a completely different topic. Of course, people can have their own opinions, but when they interfere with people's lives, it only does harm. However, they're not easy to alter, perhaps if they were put into the position of being a victim of racism, maybe they'd understand. Or, if we gave them love, will they finally change then?
On the topic of how people are responding to these circumstances, I am quite happy to say that many people are joining the movement virtually and they're trying to raise awareness. When I think about what I've done so far, in one way, I feel worse than if I had done nothing at all. I've been posting black screens, posted things about the movement on my story, and signed a petition on Instagram. Although, at the same time, I hate doing things without a drive or meaning. I feel like I'm doing this to not feel guilty about not being fully involved, and it genuinely seems like an act that people are doing for the sake of doing it. I know that's it's wrong to contribute to the movement and lack a sense of purpose, but I've been struggling to understand whether I should just not do it at all. But, that seems like a worse idea. I simply want to become more informed and have a deep sense of empathy so that I may suffer with them.
On the other hand, many people are responding in dumb and ignorant ways, saying, "All lives matter", instead of helping the ones suffering at the moment. They are trying to disregard the importance of the movement, selfishly making this about them, and making their issues less significant. Of course all lives matter, no one is saying that their lives don't, and when people say that during the black lives matter movement, they're implying that everybody has the same issues based on their race when that is not true at all.
In the end, not everybody is a horrible and ignorant person, but the ones who are, need to be educated and understand that their mentalities are toxic. Violence is not the answer, but fighting back is one of the best ways to implement change. In the end, sometimes, we just need to learn how to love again.
This is a post in a series of reflections for the Black Lives Matter movement. To read other reflections, please go to the 

Black Lives Matter

 page.