Small Group Ministry!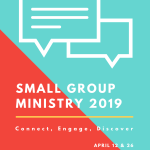 Please see below for the sermon audio, text, and discussion questions. Discussion Questions are at the bottom, so please scroll down to see them!
Scripture Passage
Sermon Transcript
We Should Treat Each Other with Dignity
I'm going to talk about humiliation and dignity, a very important message actually. How do we keep that dignity, uh, personally and as a people? Dignity is very important to us and every person has a right to live with dignity and everyone should be able to live with dignity. Doesn't matter who you are. It doesn't really matter who you are. Every single person has a right to live with dignity, but we often see that human dignity is taken away and basic human rights are violated. We need to respect each other's dignity. That's what good human life is all about. We should treat each other with dignity.
But We Cannot Control How Others Treat Us
Sometimes we ourselves feel violated. We feel that our basic rights are violated. People make us feel not only unappreciated, belittled, ridiculous and mocked at. You know, we, human beings are not as strong as it shows on the surface. Sometimes it just needs one harsh word that can destroy our confidence and our self esteem. So we have to be very careful with how we treat each other. We should always, in any circumstances, we should always treat each other with respect and honor. And we should train ourselves to do that. We cannot just naturally, uh, treat other people as we feel like. We should train ourselves so that we can treat every single person – doesn't matter who that person is – with honor and respect, not only through our words, but through our actions. We should relate to each other with dignity. But one thing I realized is, we cannot control other people's behaviors. We cannot control what they say and what they do to us. Not everyone loves us. Not everyone understands us. We cannot expect everyone to have enough integrity to treat us with respect. There are some rude people around us and we cannot control them.
We all, not only them, but we all make mistakes because we have shortcomings. So sometimes we hurt others intentionally or unintentionally. Our words and actions sometimes put others to shame. Maybe we might not have meant it. But sometimes we put others to shame.
Enmity Toward Jesus
Jesus lived with people who always attacked him. He was surrounded by the people who hated him. I mean, his life must have been very difficult. For all of us, you know, we may not like each other, but they don't really hate you to the gut. You know, you just, I don't like you. That's all. But Jesus lived with people who hit him. They hated Jesus' teaching because Jesus' teaching kind of threatened to destroy the well established system that they created, and they didn't like the fact that people followed Jesus teaching and followed Jesus. So they tried as much as possible to humiliate him, to put a bad light on him and to prove him wrong. So even in the end, they tried to kill him, but they could not just kill him. They had to kill him as criminal. So killing itself was not enough. They had to kill him as a criminal. The worst criminal. So only the worst criminals were crucified at that time, not everyone. And Jesus was crucified because they wanted to prove to the whole world that Jesus was wrong and Jesus was bad.
The Source of Jesus' Dignity in the Midst of Humiliation and Persecution
That is kind of life Jesus lived. That is kind of experience Jesus had. He was surrounded by the people who try to humiliate him, but when I read Jesus' life through the gospels, I don't see Jesus trying to prove himself right. He did not fight for his own righteousness. He did not try to tell the whole world that I am right, they are wrong. Jesus never tried to do that. Jesus never tried to say that "I am innocent!" When he received all kinds of persecutions and humiliation, somehow Jesus looked to God. Even at the cross, he looked to God. When nobody understood him, Jesus knew that God understood him. When nobody loved him. Jesus knew that God loved him. When nobody said that he was right, Jesus knew that God recognized that he was right. That was what Isaiah said in today's scripture: "He who vindicates me is near – God. Who will contend with me? Let us stand up together. Who are my adversaries? Let them confront me." Jesus had a radical faith in God and knew that God recognized his righteousness. Jesus was able to keep his dignity in the midst of the extreme humiliation because of God's recognition. But you may have this question when I say this: "Oh, Jesus was sinless. He was innocent. So he is dignity came from his own righteousness, but us, we are sinners. We cannot have that kind of dignity because we are sinners, but Jesus had his own righteousness. And from that, of course you can have that dignity." You may have those kinds of questions.
Can We Too Have That Kind of Dignity?
How about us? Who are sinners? Can we live with dignity? St Paul, later in the New Testament time, talked about us who are sinners, not Jesus, who is sinless, but he talked about us who are sinners, and this is what he said: "Who will bring any charge against God's elect? It is God who justifies, who is to condemn?" He's talking about us, not Jesus. The us who's filled with sinfulness. He said it is God who justifies. That is the secret for your dignity. The reason we can keep our dignity in the midst of our humiliating situation is because there is God who justifies us. And this justification is not something that we achieved with our own righteousness, but it is God's righteousness. It's not something that we can buy with money. We cannot have this kind of righteousness through our righteous life. It is a gift of God. To those who believe in him, God gave that righteousness as a gift to those who believe in him.
The Inseparability of God's Righteousness with Us – the Core of the Gospel
And that righteousness is with us. Who will condemn us, who will vindicate us when that righteousness that God gave me as a gift, is with me! That's what policy we live by. We live with this kind of righteousness. No one can take away this righteousness from us. When God is for us who will be against us? God says, we are all right, who will condemn us? Because of this righteousness, this kind of righteousness, we can keep our dignity, not because we are innocent, even when we are humiliated. That is the core of the Gospel. After Saint Paul talked about this righteousness, he talked about where that righteousness came from. This is what he said. I mean at first he said, "who will bring any charge against God's elect? It is God who justifies." And then he said this: "For I am convinced that neither death nor life, nor angels, nor rulers, nor things present, nor things to come, nor powers, nor height, nor depth, nor anything else in all creation will be able to separate us from the love of God in Christ Jesus, Our Lord." From that love the righteousness comes. The righteousness that comes from God's love is the righteousness that we need to hold onto.
In that righteousness, we can find our dignity.
Our Source of Dignity
Don't try to establish your dignity from other people.
Other people will treat you with dignity when they feel good, but when they feel lousy will treat you like garbage. That kind of dignity we cannot depend on, but dignity that comes from the righteousness of God is the dignity that we need to hold on to. Do not live in guilt, feeling condemned. When you live in guilt, you have a tendency to condemn.
Not only yourself, but also others. You know the people who tend to condemn others all the time – do you think that they do that because they are innocent or they are any better? No. When you really look at them, they live in guilt, so they not only condemn other people, but also themselves. Do not live in guilt, feeling condemned. Find your dignity in the righteousness God gave you as a gift and relate to each other with this dignity. When you find that kind of dignity within you, you can relate to others with that dignity. That's when human dignity will be restored. When this dignity is restored, we can overcome all kinds of humiliation. You will not be afraid of humiliation. No humiliation can destroy you. That was exactly what Isaiah said: "I give my back to those who struck me and my cheeks to those who pulled out the beard. I did not hide my face from insult and spitting." That is the kind of confidence Jesus had. Jesus never let his dignity be destroyed even in humiliating situations. This is a confidence you get through this kind of fractiousness. That was Jesus' confidence.
God's Righteousness Given to Jesus
Jesus' dignity did not come from his own righteousness. He looked to God. From God's righteousness, he found his own dignity. It's the same, whether Jesus or me, because it's God's righteousness. When Jesus said he was king, they kind of mocked him. "You are the king, okay, let me see." And they put the thorn crown on his head. They put it so hard that a thorn entered into his skull and then it bled. And they put not a robe, but some kind of kind of purple clothes around here. "Okay, here it is your robe." And "Hey, look at the king. This is your king!" And they were laughing together, seeing Jesus and spit at him, and then they slapped him. But Jesus was not shaken. Jesus did not lose his dignity because of how they treated him. Jesus believed in God. My friends, there are times you feel totally humiliated. Life circumstances may put you to shame, sometimes. Don't lose your confidence in yourself. Don't let other people take away that confidence that you have within you. Believe in God. You'll find your dignity in God and God's love for you. When you believe, God will give you that righteousness as a gift to you.
I believe that that is the gospel. There are people around you who are humiliated because of who they are. Don't join people in humiliating them together, but treat every single person with respect and honor and with dignity.
Discussion Questions
Can we maintain our dignity when others are treating us badly or unjustly?
How, in everyday life, can we live with the dignity that comes from God's righteousness?
What is the good news for you from this sermon?