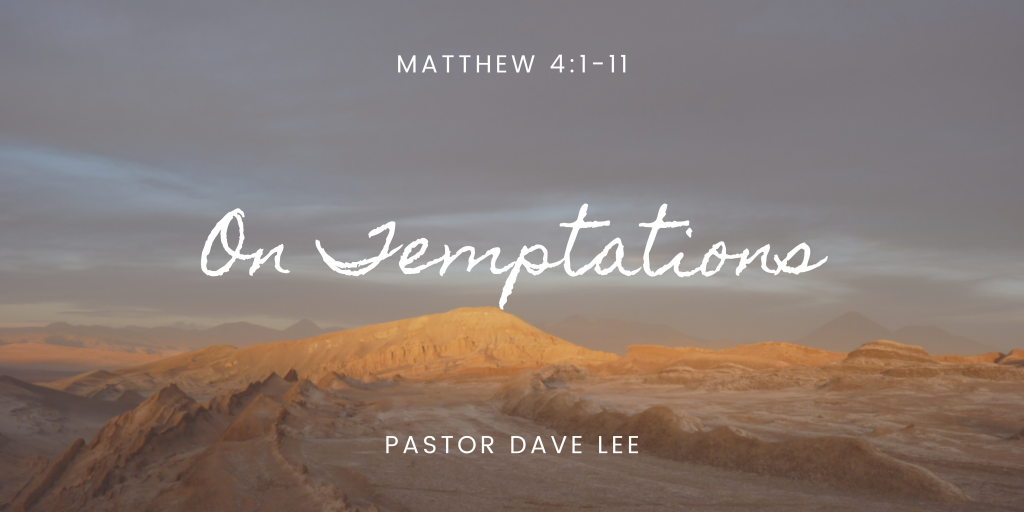 Scripture Passage
Matthew 4:1-11
Then Jesus was led by the Spirit into the wilderness to be tempted by the devil. 2 After fasting forty days and forty nights, he was hungry. 3 The tempter came to him and said, "If you are the Son of God, tell these stones to become bread."

4 Jesus answered, "It is written: 'Man shall not live on bread alone, but on every word that comes from the mouth of God'."

5 Then the devil took him to the holy city and had him stand on the highest point of the temple. 6 "If you are the Son of God," he said, "throw yourself down. For it is written:

"He will command his angels concerning you,
and they will lift you up in their hands,
so that you will not strike your foot against a stone.'"

7 Jesus answered him, "It is also written: 'Do not put the Lord your God to the test'."

8 Again, the devil took him to a very high mountain and showed him all the kingdoms of the world and their splendor. 9 "All this I will give you." he said, "if you will bow down and worship me."

10 Jesus said to him, "Away from me, Satan! For it is written: 'Worship the Lord your God, and serve him only.'"

11 Then the devil left him, and angels came and attended him.
Sermon Script
Our IDENTITY is the root of our life. How we see ourselves shapes what we say, what we think, and what we do. Even how we dress is based on how we see ourselves. In high school, there was a drummer I looked up to. I tried to dress like him. We cannot function without an identity, whatever it might be. All of us have an identity that guides us in our choices.
Jesus had his identity. He received his identity from God at his baptism.
And a voice from heaven said, "This is my Son, whom I love; with him I am well pleased."

Matthew 3: 16, 17
Jesus saw himself as a beloved child of God. What God said about him became the root of his life. He did not define himself by anything else. It gave him the confidence to begin his ministry.
God also gave us this precious identity. Each of you are the beloved child of God. God knew us before we were born, even before we were formed in our mother's womb. God's love for us is not based on our achievements. God's love was already there to begin with. God wants us to know this and live by this.
What God says about us comforts us. It makes us more confident about ourselves. But we don't always feel this way. Negative thoughts and feelings creep in. We feel inclined to see ourselves as something else.
That is what temptation is. Temptations make us question our identity as God's beloved child. Temptations tell you what God says about you isn't enough. Temptations strike you when you are most weak, insecure, and vulnerable.
When did Jesus experience his temptation? It wasn't at his baptism. It was in the wilderness, right after his baptism.
After fasting forty days and forty nights, he was hungry.

Matthew 4:2
Jesus was tempted when he was at his weakest. In today's passage, the devil tempts him three times. Here, the devil is also called 'Satan' and 'the Accuser'. The devil is not the horned, evil creature we think about.
First, Jesus is told to turn stones into bread. Second, Jesus is told to throw himself from the top of the city. Third, Jesus is told to worship the devil in exchange for the whole world.
The temptations all seem different on the surface. But they all have to do with his identity as the son of God. How does the devil tempt Jesus? He uses a very subtle but powerful tactic. Look at what he says⁠—
IF you are the Son of God, tell these stones to become bread.

Matthew 4:3
IF you are the Son of God, throw yourself down. For it is written…

Matthew 4:6
Are you REALLY the son of God? That's how Satan gets Jesus to question his identity. IF you are, then prove it to me. Show me your ability. Show me that God really loves you and cares for you. Satan even quotes a psalm to make it more convincing. What his first two attempts don't work, he resorts to the ultimatum⁠—Give me your identity for something even better.
Temptations are not as obvious as you think they are. They are powerful because they are subtle and deceiving. They have many different faces. They divide and hijack your attention. They make you think you will find peace and satisfaction in something else.
Isn't that why we run to others for approval when we are feeling most insecure and unsure of ourselves? We don't do that when we are feeling confident. We will do anything and everything to hear a word of affirmation, even if it isn't necessarily true. We think that will get rid of all the negative feelings in us. That's only momentary.
Jesus did not give into the most tempting offer he was made. But he didn't do it by arguing with Satan. He didn't resort to his own willpower and reason. Instead, he relied on God's word. How does he respond each time?
Jesus answered, "It is written…

Matthew 4:4
Jesus answered him, "It is also written…

Matthew 4:7
Jesus said to him, "Away from me, Satan! For it is written…

Matthew 4:10
All of Jesus' responses come from the Book of Deuteronomy. Jesus kept God's word close to his heart. Jesus listened to God's word instead of Satan's.
God's word is not just words. God's word is what God says to us and about us. God's word has power that is greater than our willpower.
If our identity is the root of our life, then God's word is the good soil that we must build our roots in. The writer of psalm described such a person in this way⁠—
That person is like a tree planted by streams of water,
which yields its fruit in season
and whose leaf does not wither⁠—
whatever they do prospers.

Psalm 1:3
I pray that you will be like this tree. Build your identity on God's word. When you are tempted, you have one of two choices. You can listen to God's voice. Or you can listen to the other voices that distract you. Listen to God. Remember what God said about you. No one can take away that from you. Don't trade it away, but keep it close to your heart.
Jesus' temptations did not last forever. The devil eventually went away. Matthew tells us that the angels then came to be with Jesus. Jesus came out of the wilderness stronger. His understanding of himself became clearer. This helped him face more temptations that came later on.
On this first Sunday of Lent, we reflect on Jesus who struggled with temptations just like us. Jesus fully knows what we go through. Jesus empathizes with our struggles.
For we do not have a high priest who is unable to empathize with our weaknesses, but we have one who has been tempted in every way, just as we are⁠—yet he did not sin. Let us then approach God's throne of grace with confidence, so that we may receive mercy and find grace to help us in our time of need.

Hebrews 4:15