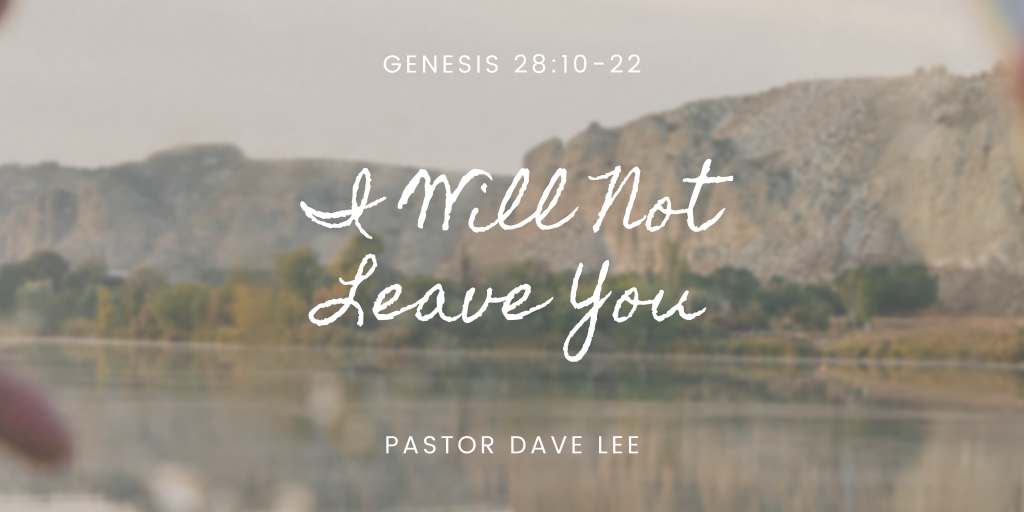 Scripture Passage
Genesis 28:10-22

10Jacob left Beersheba and set out for Harran. 1`1When he reached a certain place, he stopped for the night because the sun had set. Taking one of the stones there, he put it under his head and lay down to sleep. 12He had a dream in which he saw a stairway resting on the earth, with its top reaching to heaven, and the angels of God were ascending and descending on it. 13There above it stood the Lord, and he said: "I am the Lord, the God of your father Abraham and the God of Isaac. I will give you and your descendants the land on which you are lying. 14Your descendants will be like the dust of the earth, and you will spread out to the west and to the east, to the north and to the south. All peoples on earth will be blessed through you and your offspring. 15I am with you and will watch over you wherever you go, and I will bring you back to this land. I will not leave you until I have done what I have promised you."

16When Jacob awoke from his sleep, he thought, "Surely the Lord is in this place, and I was not aware of it." 17He was afraid and said, "How awesome is this place! This is none other than the house of God; this is the gate of heaven."

18Early the next morning Jacob took the stone he had placed under his head and set it up as a pillar and poured oil on top of it. 19He called that place Bethel, though the city used to be called Luz.

20Then Jacob made a vow, saying, "If God will be with me and will watch over me on this journey I am taking and will give me food to eat and clothes to wear 21so that I return safely to my father's household, then the Lord will be my God 22and this stone that I have set up as a pillar will be God's house, and of all that you give me I will give you a tenth."
Sermon Script
Jacob didn't have an easy life. Nothing was just given to him. He had to earn it. He always had to fight for what he wanted. He was quiet, smart and cunning. This got him in big trouble with his brother, Esau. Jacob stole his birthright and Esau "hated" Jacob for it. He had no choice but to life. He didn't know when he would be able to go back home. That's the Jacob we see at the beginning of today's passage.
Put yourself in Jacob's shoes. Imagine the kind of life he must've led. Constantly driven by fear of losing and falling behind. Feeling like you always have to fend for yourself. Too busy to think about anything else. I don't think Jacob expected much from his life.
Jacob stopped for the night. It was dark and he couldn't go any further. He was probably tired from his journey and looked forward to getting some sleep.
It was then that God appeared to him in his dream. In scriptures, dreams are shown as one of the many ways by which God speaks to his people. This was Jacob's FIRST encounter with God.
I'm sure Jacob had heard about God before. Through his father Isaac, and his grandfather Abraham. But this was different. He actually met God he had heard about. God came to him. It became an unexpected but memorable encounter.
We see that God reminds Jacob of the promise he gave to his ancestors. That he will also be a channel of blessing to others. But God also promises Jacob something else.
I am with you and will watch over you wherever you go, and I will bring you back to this land. I will not leave you until I have done what I have promised you.

Genesis 28:15
God made a promise that spoke to Jacob's deepest fears:
"I am with you and will watch over you"
"I will bring you back"
"I will not leave you"
They're all connected, but the last one stands out the most. I WILL NOT LEAVE YOU. In those words, I also hear this: YOU WILL NEVER LACK ANYTHING. Knowing who Jacob was, how comforting may those words have been for him?
God's promise to Jacob weren't just words. It was a promise of hope and assurance. It was a MESSAGE of GRACE. We also need this message of grace from time to time.
We are like Jacob in many ways. We often feel like everything depends on us. We struggle with the uncertainty of our future. We always feel the need to be in control. We live with the fear of falling behind. We see nothing else but what we have to do next.
Hear what God is saying to you today. I WILL NOT LEAVE YOU. You will never lack anything. You don't have to be afraid. You will be okay.
Let those words settle deep within your hearts. God's message of grace FREES us from our fears. It changes us. It empowers us to live differently. That's the power of God's word.
When Jacob woke up, he was no longer the same. He woke up a CHANGED man. He felt unsettled by what he had experienced, but he saw his life in a new way. He even saw the place he was standing on differently. Luz became BETHEL (House of God). His entire attitude changed. He was more joyful, thankful, and confident.
Then Jacob made a vow, saying, "If God will be with me and will watch over me on this journey I am taking and will give me food to eat and clothes to wear so that I return safely to my father's household, then the Lord will be my God and this stone that I have set up as a pillar will be God's house, and of all that you give me I will give you a tenth."

Genesis 28:20-22
This wasn't a bargain that Jacob was making with God. This was Jacob's RESPONSE to God's promise to him. Isn't that what happens in worship? God speaks to us, and we respond in gratitude.
I said earlier that Jacob was a cunning person. After this, Jacob became a hard-working person. He didn't try to deceive others to get what he wanted. Later when his uncle Laban tricked him, Jacob worked diligently for another 7 years to marry Rachel. His life didn't get easier, but Jacob held firmly onto God's word. He became ISRAEL in the end.
Last week, we reflected on being a gift to others. How we are called to let ourselves shine. We can't be a blessing to others when we are always absorbed by our fears and worries. That's why God told Jacob, "I will not leave you." Human beings need assurance to go beyond themselves. Jesus said the same thing to his disciples when he sent them out to share the good news.
Go therefore and make disciples of all nations, baptizing them in the name of the Father and of the Son and of the Holy Spirit and teaching them to obey everything that I have commanded you. And remember, I AM WITH YOU ALWAYS, to the end of the age."

Matthew 28:19, 20
Remember God's promise. You will never be alone. Hold onto God's word when you get discouraged. You will find comfort and strength. You will live more joyfully, thankfully, and confidently. You will be a blessing to others.
Discussion Questions
In what ways can you relate to Jacob?

What has been particularly challenging for you this week? How does today's message encourage you and comfort you?