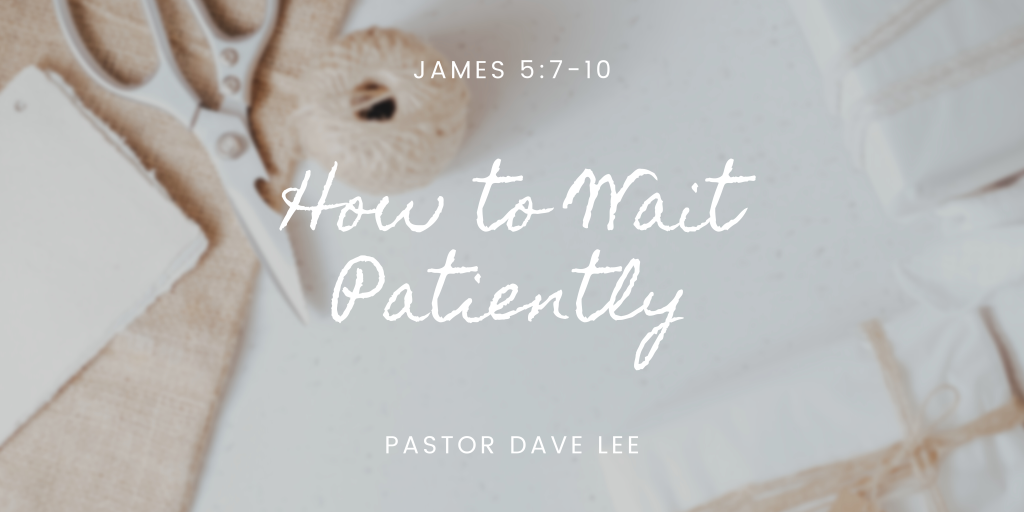 Scripture Passage
James 5:7-10

7 Be patient, then, brothers and sisters, until the Lord's coming. See how the farmer waits for the land to yield its valuable crop, patiently waiting for the autumn and spring rains. 8You too, be patient and stand firm, because the Lord's coming is near. 9 Don't grumble against one another, brothers and sisters, or you will be judged. The Judge is standing at the door!

10Brothers and sisters, as an example of patience in the face of suffering, take the prophets who spoke in the name of the Lord.
Sermon Script
What time is it? I'm not asking about the time on your phone. Isn't it 'time' to listen?
We usually understand time in a chronological way. Time according to which we live our everyday life. We wake up, go to school, eat, and sleep at certain times. But that's not the only way to look at time.
There is a different kind of time. Time that we can't measure or quantify. Time that we feel or sense. We recognize it when it comes. The author of Ecclesiastes spoke about this kind of time.
There is a time for everything,
and a season for every activity under the heavens:
a time to be born and a time to die,
a time to plant and a time to uproot,
a time to kill and a time to heal,
a time to tear down and a time to build,
a time to weep and a time to laugh,
a time to mourn and a time to dance,
a time to scatter stones and a time to gather them,
a time to embrace and a time to refrain from embracing,
a time to search and a time to give up, a time to keep and a time to throw away,
a time to tear and a time to mend,
a time to be silent and a time to speak,
a time to love and a time to hate,
a time for war and a time for peace.

Ecclesiastes 3:1-8
We don't know exactly when this time will come. But it is important to know that there is a time for everything. If we are in a time of weeping, there will come a time when we will laugh. If we are in a time of embracing one another, there will come a time when we will let go of each other. If we are in a time of silence, there will come a time when we will speak. Knowing this gives us a bigger perspective. It prevents us from getting impatient when there seems to be no change. It helps us to wait patiently.
I am not a very patient person. I eat fast, I walk fast, and I get straight to the point. I get easily frustrated when people eat slow, walk slow, and beat around the bush. I don't hide my frustrations all that well either.
I'm sure I'm not the only one though. I think as human beings, we aren't very good at waiting. We like to be in control. We want things to happen as we wish. Waiting tells us that we can't do that. Waiting tells us that life has its own rhythm.
When you think about it, we spend much of our life waiting. Our life is more than a series of events that happen one after each other. To ride the bus every morning, we have to wait. To listen to a new song or an album, we have to wait. To receive our acceptance letters, we have to wait. To open our Christmas presents, we have to wait. There are no shortcuts.
But with these things, as long as we do our very best, we can wait for them. Because we know more or less when they will happen.
We are all waiting for the winter break to start. We know exactly when our last day of classes is. So even though we find it tedious to be in school right now, we are doing our best to get through it.
With waiting, the real challenge comes when how long we have to wait for remains uncertain. When our waiting seems to drag on and on, and the time we are waiting for seems to be nowhere in sight.
We've experienced that with the pandemic. There was no guarantee as to when the last day would be. At first, we thought it would last less than a year. It ended up going on for nearly 3 years! The uncertainty tested even the most patient of people. We saw people become more reactive, angry, and even violent. We were in a time of confusion. We didn't know when the time of clarity would come.
Similar thing happened in James' time. People expected Jesus to return very soon. They lived each day with anticipation and excitement. But no one knew exactly when. When there was no sign of him returning, people started getting frustrated and discouraged. All that waiting tested their faith. Some doubted, argued and fought with each other. Others stopped waiting for Jesus altogether. So James wrote this letter to them, which we heard today—
Be patient, then, brothers and sisters, until the Lord's coming. See how the farmer waits for the land to yield its valuable crop, patiently waiting for the autumn and spring rains.

James 5:7
People were giving up because they saw no change in their life. But James reminded them to wait patiently, like a farmer who waits for the autumn and spring rains.
When we are in a time of dryness, all we can do is wait. We have to wait for the time of change, newness and growth. We can't do anything else until then. That can make us helpless and frustrated. To wait patiently, we need faith. Faith that God will bring about the change that we desire when the time is right.
When things don't go the way you want or expect, don't just react in the moment. Sometimes we make the poorest choices by being reactive. Instead, take a deep breath. Be still and wait for God.
While you wait, pray. That is what Jesus taught his disciples. They kept falling asleep. He understood how difficult it is to wait patiently. You get tired and lose focus.
Keep awake and pray that you may not come into the time of trial; the spirit is indeed willing, but the flesh is weak.

Mark 14:38
Ask God to help you see what you cannot see. God will give you the wisdom to see your next step. God will help you see that there is a time for everything. I like what Haruki Murakami said once—
This is one more piece of advice I have for you: don't get impatient. Even if things are so tangled up you can't do anything, don't get desperate or blow a fuse and start yanking on one particular thread before it's ready to come undone. You have to realize it's going to be a long process and that you'll work on things slowly, one at a time.

Haruki Murakami
Be patient and stand firm. Watching the World Cup these days reminds me of how important this is. Life is a beautiful journey. Yes, it's got its ups and downs. What you are seeing now isn't everything. Sadness may last for the night, but joy will come in the morning. Trust in God's time. As long as we know how to wait, all will be well.