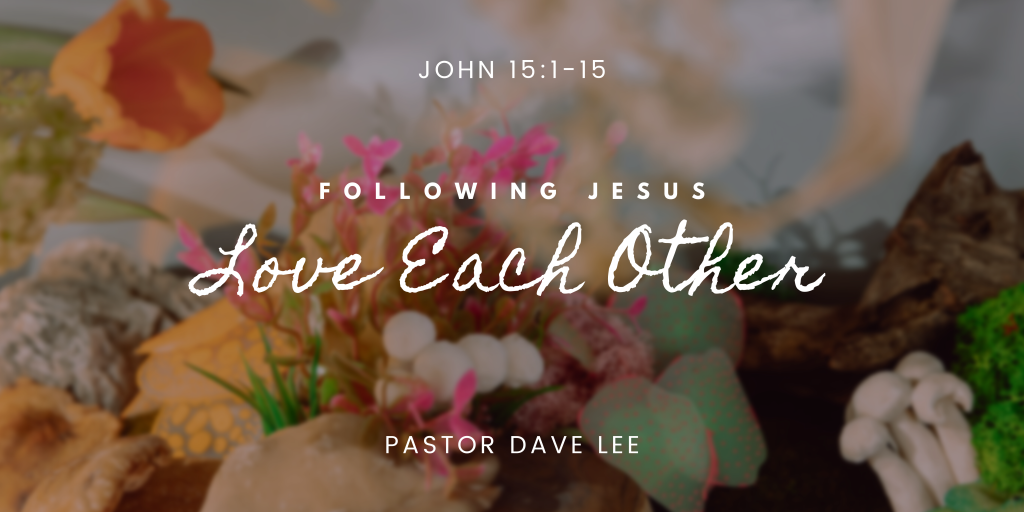 Scripture Passage
John 15:1-15

"I am the true vine, and my Father is the gardener. 2He cuts off every branch in me that bears no fruit, while every branch that does bear fruit he prunes so that it will be even more fruitful. 3Youth are already clean because of the word I have spoken to you. 4Remain in me, as I also remain in you. No branch can bear fruit by itself; it must remain in the vine. Neither can you bear fruit unless you remain in me.

5"I am the vine; you are the branches. If you remain in me and I in you, you will bear much fruit; apart from me you can do nothing. 6If you do not remain in me, you are like a branch that is thrown away and withers; such branches are picked up, thrown into the fire and burned. 7If you remain in me and my words remain in you, ask whatever you wish, and it will be done for you. 8This is to my Father's glory, that you bear much fruit, showing yourselves to be my disciplines.

9"As the Father has loved me, so have I loved you. Now remain in my love. 10If you keep my commands, you will remain in me love, just as I have kept my Father's commands and remain in his love. 11I have told you this so that my joy may be in you and that your joy may be complete. 12My command is this: Love each other as I have loved you. 13Greater love has no one than this: to lay down one's life for one's friends. 14You are my friends if you do what I command. 15I no longer call you servants, because a servant does not know his master's business. Instead, I have called you friends, for everything that I learned from my Father I have made known to you.
Sermon Script
Last week, we began reflecting on the theme of "Following Jesus". Following Jesus is not a concept. Following Jesus is not what we say. Following Jesus is what we DO. Through the story of Jesus calling the disciples, we saw how it has to do with us committing to the journey of discovery. Discovering more of who we are, and who God is.
Today, we continue exploring what it means to follow Jesus in our lives. The passage we read today comes from what Jesus said to his disciples toward the end of his time with them. Jesus told them—
My command is this: Love each other as I have loved you.

John 15:12
Love each other. That was Jesus' desire for his disciples. If you want to continue following me even after I'm gone, love each other. That is, as I have loved you. We often overlook this part. We don't love just any way that we want. We love in the way that Jesus loved us.
Practicing Jesus' love—that is what it means to follow Jesus. We live each day loving each other as Jesus commanded us. It sounds simple and nice, but it is the most difficult thing to do.
The kind of love Jesus is talking about here is quite different from what we think of when it comes to love. It is not a sentimental, feel-good kind of love. It is not romantic love. Right after Jesus gave his command, he described to his disciples the kind of love he is talking about—
Greater love has no one than this: to lay down one's life for one's friends.

John 15:13
Jesus' love is love that is willing to lay down our life for our friends. What does it mean to "lay down our life"? I don't know if I want to "die" for my friend. Sounds burdensome, to be honest.
It doesn't necessarily mean physically "dying" for someone else. Jesus is speaking figuratively here. He is talking about the kind of love that is always looking out for another person's well-being. This love isn't only reserved for those we like. By "friends", Jesus is referring to anyone in our midst. Those who are our acquaintances, even strangers. We are called to be "friends" to them through our love. Yes, the disciples spent lots of time together. But they weren't necessarily best buddies with each other. Jesus was calling them to love and care for each other as he did for them.
This is the highest and the greatest kind of love. It is called AGAPE. In English, it is hard to tell. In Greek, there are different types of love. Agape is the selfless, unconditional love. Agape is the love that Jesus lived.
To live the Agape love is the most challenging and difficult. We experience this often. It is INCONVENIENT for us. We feel as if we don't have the time or the energy to always look out for someone else's well-being. It feels too tiring and burdensome. We have enough problems and stress to deal in our own life. We'd rather say, "You do your thing; I do mine." I GIVE UP. We don't think it's a realistic way to live.
I agree. To love as Jesus loved us can seem unrealistic. It can even seem ridiculous at times. It can seem unfair.
But it's not impossible. It is indeed possible to love the way Jesus did. Otherwise, he wouldn't have told us that.
As long as we think we can love each other solely on our own, we will never be able to love as Jesus commanded us. Because love is not a feeling. Love has to do with STRENGTH. We need strength to love. Our strength to love others is limited. We get easily depleted. We have a very small tank. To love truly and fully, we need to be constantly replenished with new strength and power. That is why Jesus said earlier in today's passage—
Remain in me, as I also remain in you. No branch can bear fruit by itself; it must remain in the vine. Neither can you bear fruit unless you remain in me.

John 15:4
Just as the branches draw their strength from the vine, we draw our strength to love from being connected to Jesus. Not looking to anywhere else, but remaining in him alone. By looking to Jesus and asking him to fill our hearts with love. The word "remain" is the same word as when we read last week that the disciples "stayed" with Jesus the day they met him. That is the only way. With the strength Jesus gives us to love each other, that is how we can bear fruit in our lives.
As the Father has loved me, so have I loved you. Now remain in my love.

John 15:9
When you love with the strength you find in Christ, you will see wonderful things happening in your life. You will find yourself loving others in ways you'd never thought possible. Jesus loved with the strength he received from the Father. He loved even his enemies. He displayed a NEW possibility of loving each other. This life of love ultimately led him to the cross.
Let us continue our journey of following Jesus by loving each other. Even in a community like this, we cannot take love for granted. It is so easy to be envious, to gossip, to dislike and hate others. It is so easy to be indifferent to others. We need to practice loving each other in concrete ways. Not just in words, but in our action. Without love, everything will easily weaken and fall apart.
As God has shown you love through his patience, be patient with others. When you get impatient and annoyed, ask God to renew your heart and give you understanding. Ask for the eyes to see the person's heart, rather than what you see on the outside. Don't give up on others, but persevere with them.
Also, be mindful with others. Show respect and consideration to those around you. Thoughtfulness that comes from love goes a long way. Just because you are older, don't look down on those who are younger than you. Treat them as your equals. Seek to lift them up and empower them. Put their needs above your own.
These are different ways of how we can love each other. Through loving each other, we can be genuine followers of Jesus.