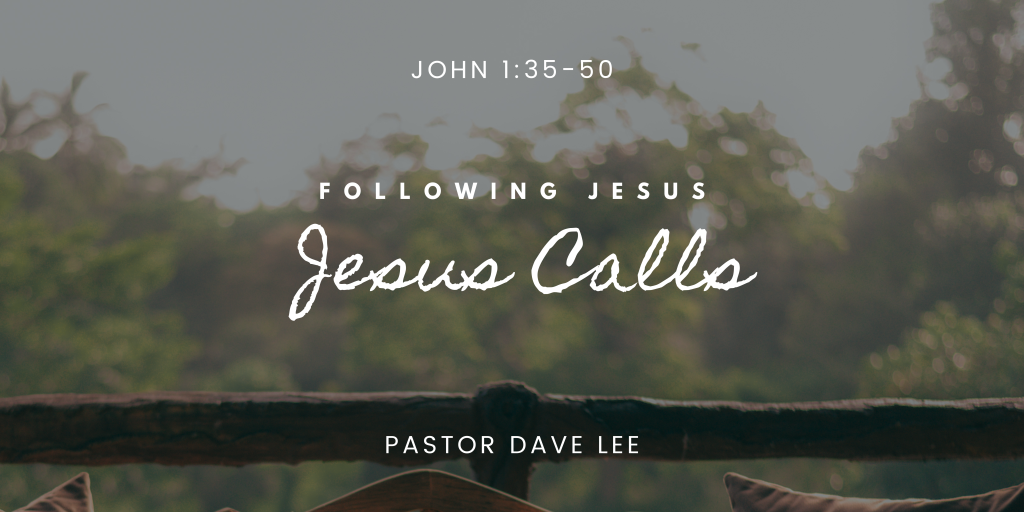 Scripture Passage
John 1:35-50

35The next day John was there again with two of his disciples. 36 When he saw Jesus passing by, he said, "Look, the Lamb of God!"

37 When the two disciples heard him say this, they followed Jesus. 38 Turning around, Jesus saw them following and asked, "What do you want?"

They said, "Rabbi" (which means "Teacher"), "where are you staying?"

39 "Come," he replied, "and you will see."

So they went and saw where he was staying, and they spent that day with him. It was about four in the afternoon.

40 Andrew, Simon Peter's brother, was one of the two who heard what John had said and who had followed Jesus. 41 The first thing Andrew did was to find his brother Simon and tell him, "We have found the Messiah" (that is, the Christ). 42 And he brought him to Jesus.

Jesus looked at him and said, "You are Simon son of John. You will be called Cephas" (which, when translated, is Peter).

43 The next day Jesus decided to leave for Galilee. Finding Philip, he said to him, "Follow me."

44 Philip, like Andrew and Peter, was from the town of Bethsaida. 45 Philip found Nathanael and told him, "We have found the one Moses wrote about in the Law, and about whom the prophets also wrote—Jesus of Nazareth, the son of Joseph."

46"Nazareth! Can anything good come from there?" Nathanael asked.

"Come and see," said Philip.

47When Jesus saw Nathanael approaching, he said of him, "Here truly is an Israelite in whom there is no deceit."

48"How do you know me?" Nathanael asked.

Jesus answered, "I saw you while you were still under the fig tree before Philip called you."

49Then Nathanael declared, "Rabbi, you are the Son of God; you are the king of Israel."

50Jesus said, "You believe because I told you I saw you under the fig tree. You will see greater things than that."
Sermon Script
In today's passage, we see Jesus calling his disciples. Andrew, Peter, Philip, and Nathanael. There's another disciple with Andrew whom we don't know. Each has a unique experience of being "called" to follow Jesus. No two experiences are entirely identical. I want to reflect with you on what this calling is.
When we hear the word "calling", we often think of God calling us to do something big. So big that it's overwhelming and scary. Pastors will often talk about being "called" to ministry. In Jonah's case, he runs to the opposite end of the earth when God "calls" him to go to Nineveh.
However, today's passage gives us a slightly different picture. It doesn't seem all that scary. Rather, it seems intriguing and exciting. There is an element of MYSTERY. Questions remain unanswered. We don't get the answers we want beforehand. When the first two disciples ask Jesus where he is staying, he simply says—
"Come," he replied, "and you will see."

John 1:39
In that sense, calling is not some obligation to do something grand. Calling is an INVITATION. Invitation to a journey of DISCOVERY. It is not reserved for a special few. God calls all of us to this journey.
But what are we being called to discover? You might ask yourself that. Let's take a look at Peter's and Nathanael's calling more closely.
Peter (Simon) first hears about Jesus from his brother, Andrew. Andrew later brings him to Jesus. What does Jesus tell Peter when he sees him?
Jesus looked at him and said, "You are Simon son of John. You will be called CEPHAS" (which, when translated, is Peter).

John 1:42
CEPHAS means "ROCK". Consider this in light of what you know about Peter. How in the world is he "rock"-like? He is the furthest thing from it! Jesus wasn't telling Peter that he is a rock. Jesus was telling Peter that he will be a rock. In other words, he showed Peter whom (or what kind of person) he would go on to become. There lay a wonderful promise in Jesus' calling to Peter.
When God calls us, God is calling us to a journey of DISCOVERING WHO WE ARE.
We often live with an idea of who we "think" we are. Not who we "really" are. In order to discover more of who we are, we need to take this journey ourselves.
For Peter, the journey of becoming "Cephas" was difficult but rewarding. Through different circumstances and challenges, he came to see himself more clearly than ever before. In all his strengths and weaknesses. Yet God used all those experiences to shape him into the strong, steadfast and mature person he became later in life. God even built his church on Peter.
We began a new school year this week. This won't just be another year of studies. This will be a year of discovering more of who you are. We are so curious to know more of who we are, but also afraid to take the journey of discovering who we are.
You may feel very shaky, unsure and turbulent like Peter. Take the journey that God calls you to with faith. Be curious and courageous. God will use this year to shape you into a better person. God will deepen your understanding of yourself. You will come out wiser and stronger than before.
Then there is Nathanael. Unlike Peter, Nathanael isn't as ready to jump in. When he hears about Jesus from Philip, he becomes skeptical. He wonders if anything "good" can come from a small, unknown town like Nazareth.
Yet when he finally meets Jesus, Nathanael has a different experience. Jesus calls him a good, pure-hearted person. Nathanael gets taken aback.
"How do you know me?" Nathanael asked.

Jesus answered, "I saw you while you were still under the fig tree before Philip called you."

John 1:48
With Jesus, Nathanael felt as if he met someone who knew him better than he did himself. He felt this wasn't just some ordinary person. This experienced transformed his understanding of Jesus.
Then Nathanael declared, "Rabbi, you are the Son of God; you are the king of Israel."

John 1:49
Then what does Jesus say? He makes a promise to Nathanael.
Jesus said, "You believe because I told you I saw you under the fig tree. You will see GREATER THINGS than that."

John 1:50
When God calls us, God is also calling us to a journey of DISCOVERING WHO GOD IS.
Our understanding of God doesn't just come from books. Our understanding of God comes from what we experience in life. God reveals himself to us little by little, in all circumstances. We become more attentive to how God is present and at work.
We experienced that at the retreat. How present God is in our midst. We didn't just hear about God. We experienced God's presence within us and in others. We came to know God and his love more deeply.
Discovering more of who we are is exciting. Discovering more of who God is just as exciting. There is nothing more important in life than to know God. The more we come to know God, the more we come to know ourselves. God is like the mirror in which we can see ourselves as we are. God's MASTERPIECE. The two are intimately connected.
God is calling us to take this journey. We respond to his calling by FOLLOWING JESUS.
Hence, the theme. Following Jesus is not a concept. Following Jesus is an ACTION. It is our commitment to this journey of discovery. To the journey of LEARNING. Trusting in his word and his guidance. That is what it means to be a "disciple". There is no better way to learn and discover than by LIVING EACH DAY TO THE FULLEST.
Take each day as an opportunity for new discovery. As an opportunity to learn something new. About yourself, about God. "New" doesn't necessarily mean new information. It can also mean seeing what you already knew in a "new" way. Pay attention to your life. We should always be growing and evolving. A philosopher said, "The snake that cannot shed its skin has to die."
Don't let what you learned at the retreat fall to the side. Translate it into your LIFESTYLE—with faith. God has already given you his promise. God will shape you into the person you need to become. God will show you greater things than what you saw before.