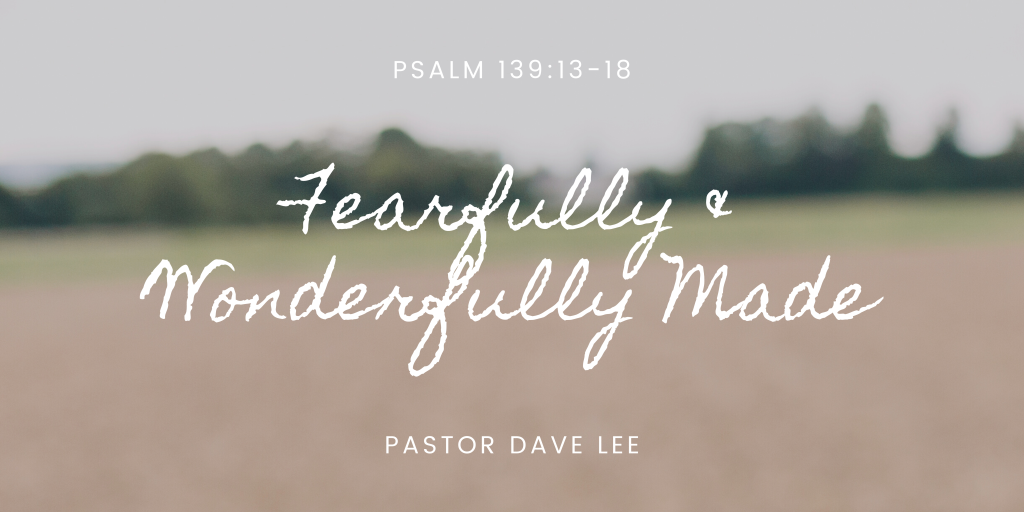 Scripture Passage
Psalm 139:13-18

13For you created my inmost being; you knit me together in my mother's womb. 14I praise you because I am fearfully and wonderfully made; your works are wonderful, I know that full well. 15My frame was not hidden from you when I was made in the secret place, when I was woven together in the depths of the earth. 16Your eyes saw my unformed body; all the days ordained for me were written in your book before one of them came to be. 17How precious to me are your thoughts, God! How vast is the sum of them! 18Were I to count them, they would outnumber the grains of sand—when I awake, I am still with you.
Sermon Script
David makes a bold confession in his psalm. It tell us how he sees himself. Let's hear verse 14 again.
I praise you because I am fearfully and wonderfully made; your works are wonderful, I know that full well.

Psalm 139:14
What does it mean to be "fearfully and wonderfully made"? Do you say that when you look at yourself in the mirror? We are rarely happy with what we see. We only see the things we'd like to change or cover up.
Even when we look inside ourselves, we don't see anything attractive. We wonder, "Why am I like this?" It's hard for us to say, "I am fearfully and wonderfully made."
David was the greatest kind of Israel. But when you look at his life, you will notice that he had his own flaws. As a king, he did many great and wonderful things but there were times when he abused his power. He became too proud. He thought he could do whatever he wanted. He took advantage of other people. His heart was after God, but he also made mistakes. He didn't think he was fearfully and wonderfully made because of his status or what he achieved in life. How he saw himself was rooted in something else. It came from the knowledge that he was made by God, in his image.
That's what it means to be made fearfully and wonderfully. It has nothing to do with how you feel about yourself. It is the fact that you are MADE IN THE IMAGE OF GOD. The creation narrative tells us that.
So God created humankind in his image, IN THE IMAGE OF GOD he created them…

Genesis 1:27
What is the IMAGE of God then? Is it a picture? Can we see it? What does God look like? Does that mean we look like God, and God looks like us?
It's easy to think of 'image' as what we see on the outside. Something that others see, and we show to others. It's more than that.
When an artist creates a work of art, that artwork bears the mark of the artist. It may have the artist's signature. But even without it, the artwork reflects who the artist is. It bears the IMAGE OF ITS CREATOR.
That is the image of God. It is the UNIQUENESS of God who created us. God has made his mark in our souls. Each of us bears God's uniqueness in who we are. Recognizing that is what it means to say that I am FEARFULLY and WONDERFULLY MADE.
No two people are exactly alike. Even twins who look alike are not the same people. Everyone has unique DNA. Each person has a distinct personality, likes, dislikes, quirks, and so forth. When you look at the human body, you realize how intricately it is structured. There is no creature like a human being. There is no artist like God.
David saw this uniqueness of God's handiwork in himself. I don't mean this in a narcissistic way. In seeing this uniqueness, he saw God's love for him. Even before he was formed in his mother's womb, God loved him and considered him precious to be made. The thought itself was too much for him to handle. That's why he wrote this psalm. It was an expression of his awe and gratitude to God. That's why he was able to say, "I am fearfully and wonderfully made."
We often struggle with our self-image. We let our self-image dictate how we feel about ourselves. We let out self-image influence how we behave around others. We let our self-image control our lives in a negative way. That is the effect of SIN. Sin distorts the way we see ourselves. Sin shatters the image of God within us.
Ask God to help you see the image of God within you. To see yourself clearly, as you were made to be. To see that you are fearfully and wonderfully made. God will heal and mend your broken self. God will restore his image within you.
This is what Jesus came to do. To restore God's image within us. He saw people struggling with their brokenness and shame. They had distorted views of themselves. So he healed them. He made them feel human again. He gave them back their DIGNITY and FREEDOM.
We are also called to do the same for each other. To see the image of God in one another. To restore each other's dignity. I believe that is our ethical responsibility as human beings. We have no right to put down another person. We have no right to fit them into our own image. We are called to see the HUMANITY in the other person.
Christians haven't always been faithful to that calling. Last Friday was the National Day for Truth and Reconciliation. It is a day to reflect and repent of the harm done towards the Indigenous peoples. It is a reminder of our failure to recognize and affirm the image of God in those whom we saw as 'different' than us.
Embrace not just your own uniqueness but the uniqueness in others. Let them know that they are fearfully and wonderfully made. I see that as my calling in ministry. Seeing you blossom brings me the greatest joy. Don't judge others by what you see on the outside, but appreciate the beautiful work of God in who they are. You will give them their CONFIDENCE back. That is what kindness and love look like in action.