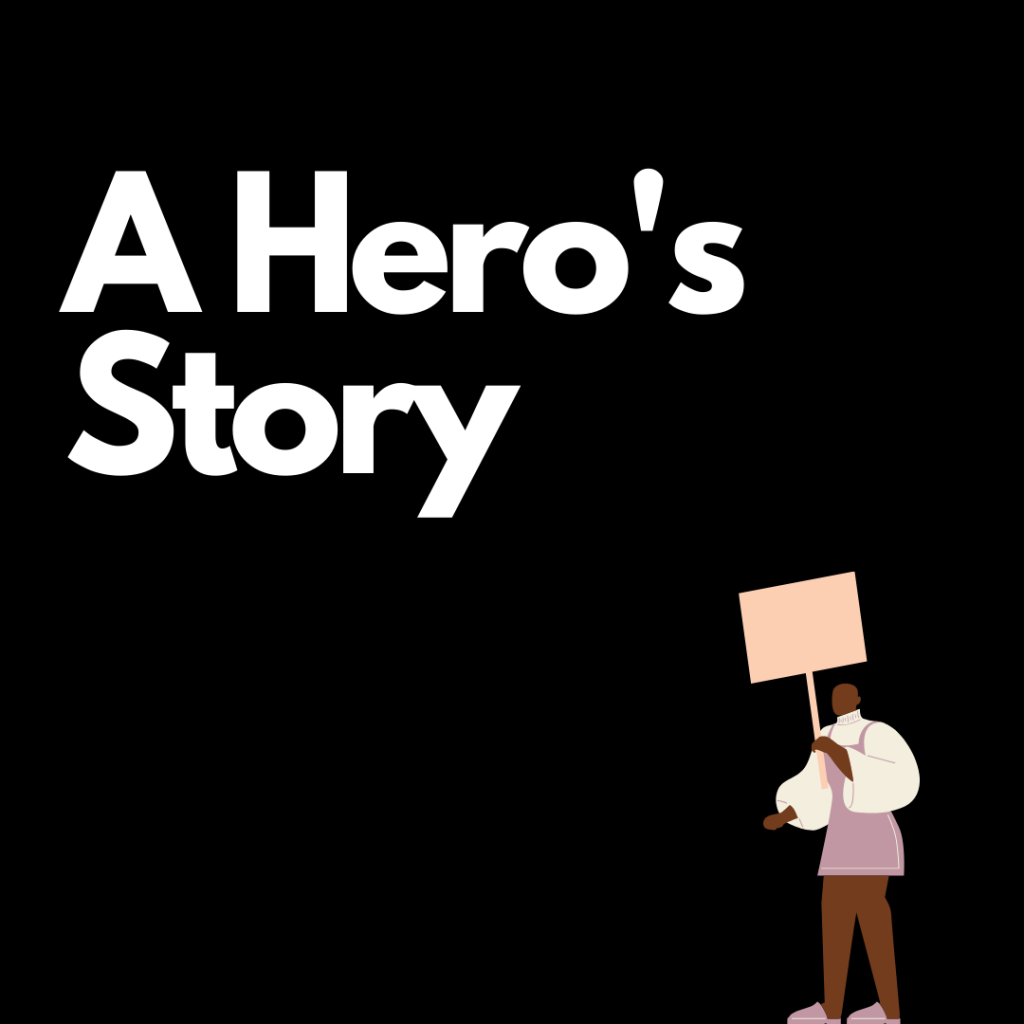 This is a post in a series of reflections for the Black Lives Matter movement. To read other reflections, please go to the 

Black Lives Matter

 page.
A Hero's Story
By: Mena Johnstone
I am writing this letter in the hopes of contributing positive change to black lives and society.
As I write this, I'm suffering with extreme back pain. I read somewhere that it's easier to say you have a toothache than a broken heart. Well, I have a backache and a broken heart.
Saturday night, I attended an online vigil with the church, where I listened to two black speakers, and they spoke of their experience in an anti-black culture and world. One of the things I heard is that it is incumbent upon non-blacks (I think particularly whites) to speak to each other in good faith to uncover their biases and fears, their reasons for them, and then to courageously work toward addressing (I say fixing) them so they don't hurt others, in this case black people, with those biases.
I understand this. Those of us who have enjoyed the privilege of safety, of status, of preferred status, because of our skin, are not to sit back and enjoy that privilege while we watch others being punished because of the wrong coloured skin or race. Initially we might be able to plead ignorance until we realize this. Once we do, we no longer have an excuse and we have to be brave enough to do what's right.
Some of us are scared. Scared to say something wrong in case it paints us in a bad light. I understand this. Choose people you trust and be sincere to start. The point of this change is that it will be hard but so rewarding in knowing that we are trying to be part of change and a growing solution. Each good motive and action counts. We will not change overnight but each supporting voice will have an exponential effect, as we show our love in whom we are.
We will have opponents. There is much ignorance and fear, which is at the root of our problem. Fear of retaliation, fear of losing privilege. The key is to begin.
A friend said she hopes the change will continue after the cameras are gone.
I want to share a story about an event that I hope will show the love I'm talking about.
…
My son David turned 19 on June 5th. Thirteen years ago, almost to the day, my family went to my parents' place for Sunday lunch, along with my two sisters' and brother's families.
At that time, I had just had my youngest son, Liam, who was three weeks old, my daughter Meg, who had just turned 4, and David, 6. All their birthdays are within a few weeks.
I was exhausted. Breastfeeding, not sleeping, throw in a couple of birthday parties. I did a lot of things I would never recommend to anyone else in early weeks. Hindsight is 20/20.
It was a perfect weather day, much like right now.
We had a beautiful lunch and afterwards, we had decided to go to a nearby wooded area to feed the ducks with the half a dozen children.
We had brought David's brand new bike so he could ride it after lunch.
I was the last to be ready, as I fed Liam while the others cleared the table and washed dishes, and left.
It was somewhat chaotic with 16 people and kids flurrying around, so when I left, it was unclear where everyone was. I headed outside with Liam, and put him into the stroller, while my husband got David's bike out. My husband and my brother-in-law were washing our vehicles on the driveway. As I buckled Liam in, I saw David ride off to catch up with the duck feeders. I asked my husband if he told David where the others were, and he said no, as he didn't seem to know and assumed David knew where the others were.
I started to push the stroller quickly along as I followed, realizing immediately that David would likely ride along the main path for the others, in search of them until he found them. I knew that the others had veered off at the entry of the path to the far left down the hill to the dirt landing by the stream, not along the main path, which was very long and surrounded by forest on both sides.
I watched David disappear down the hill leading into the woods and started to call out to him as loudly as I could. No answer. I walked faster. I could have gone back and left the stroller at home but I realized even that would take a minute or two. I started to jog but it was impossible. My swollen and exhausted body would not move quickly and I knew David could ride faster. I continued to call as loudly as I could and as I reached the entry to the woods, my mother came up the hill, visibly concerned. She asked me what was going on and I told her. I asked her to keep the baby and tried again to run but it was no use.
By now a couple of minutes had passed, and I knew that as David approached the end of the path, there would be a break at a road, where he would have to cross to get to the next path leading into a bigger park, beyond where we normally ventured.
As I walked as fast as I could, a black teen was approaching. His jeans hung low and he didn't make eye contact. I made a quick decision. No small talk.
"Did you see a boy on a blue bike ride past you?"
"Yes, a couple of minutes ago"
"Please," I said. "Run and catch him. He may cross the road to the other side. His name is David. Just stop him!"
He turned and ran.
Within probably five minutes or so, as I climbed uphill to the road, I saw them up ahead on the other side. David was standing and the teen was standing beside him, holding the bike by the handlebar, between them.
David looked startled. I taught my kids to not talk to strangers unless my husband or I were with them, so I know I put him in a scary spot by having a stranger stop him.
When I reached them, what I wanted to do was collapse to the ground in relief. Instead, I scolded David for taking off. I know I was wrong but I was so terrified of him getting hurt or worse that I wrongly reacted. I'm sorry about that to this day. He was just a kid and didn't know better.
I profusely thanked the teen. I don't even remember if I asked him his name, but I think I did. I asked him if he would help us home because I felt so utterly exhausted and I didn't want David to ride the bike. I needed someone to help me.
So the teen actually carried the bike while I took David's hand and we walked home.
There was not a lot of talking. I told the teen there was no way I could thank him enough but that I would like to give him some money. He refused. "No need, Miss."
"Please. Let me. I don't know how else to thank you."
"It's ok," he said.
I told him that he might have saved a life that day.
I said, "I want you to remember this day. I will never forget it. Today, you were a guardian angel. Please don't forget it." I don't know if I cried but I'm guessing I did.
Before I even asked him to help, numerous thoughts flooded me in an instant. This was not a typical hero. He was someone who no doubt would often be judged for his skin. He might be scared of me.
Still, he helped. No questions asked. I wanted him to know that he was a hero to me. That he mattered to me. That he made a huge difference in my world.
He was the real story that day.
I have told that story so many times. David hates to hear it. I think it's because he feels bad about what I went through that day. I still vividly recall the feeling of my fear when David rode off.
Every time I tell the story, I wonder what has become of this young man since then. I wonder if he sees himself as good in a world that has painted him sweepingly in a negative light. I hope so.
That experience should not have been necessary to create a shift in my perspective but it did. Biases are sometimes so subtle that they only appear when prompted. In my case, it wasn't hatred in my heart; it was an insidious ingrained message I never really thought was there.
This is a story about someone that might have been judged differently if I hadn't needed him.
That day, my son's life mattered to the teen that helped me, no questions asked. Why on earth wouldn't his life matter to us?
This is a post in a series of reflections for the Black Lives Matter movement. To read other reflections, please go to the 

Black Lives Matter

 page.