Important Updates Related to COVID-19
Please check this page regularly for updates from the COVID-19 situation that affect our church. May God lead us during this time.
January 3, 2021
Due to the lockdown, service will continue to be online. Join us on zoom! Sunday worship begins at 11:30 am! Children's worship is at 10:30 am!
Please sign up for our email list to get links updates, announcements, and invites!
Please watch our safety video! Let us work together to keep our community safe
October 9, 2020
Due to the rising numbers of COVID-19 cases, and public health messaging for greater vigilance, we have decided to shift our Sunday worship services back to online only for at least the next two Sundays (October 11 and 18). We will reassess the status after that.
Let us pray for the safety and health of all our members and everyone else as well.
October 2, 2020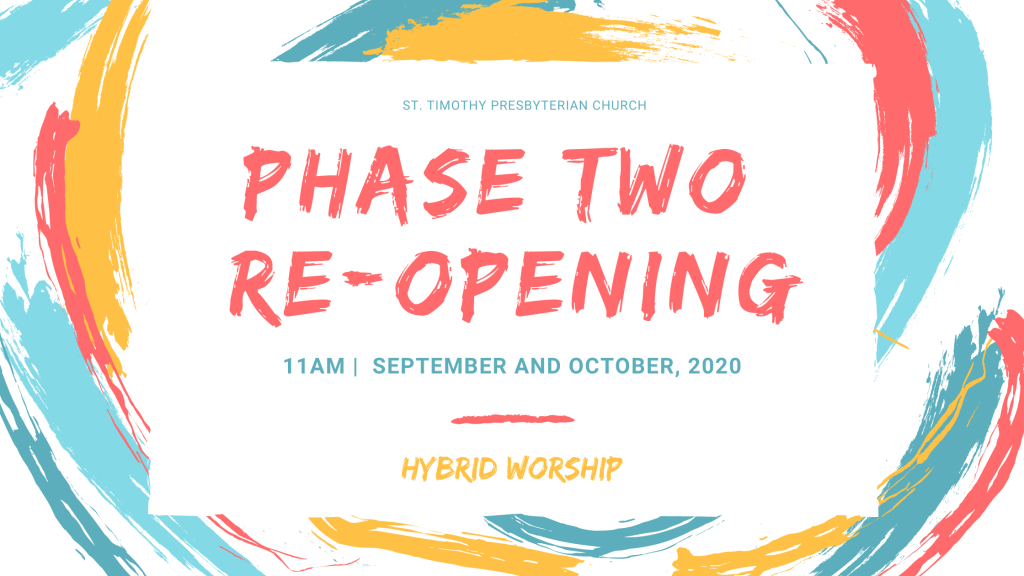 Sunday Worship: Sunday worship now begins at 11:30 am! Children's worship is at 10:30 am! Join us in-person or on zoom!
Bible Study: Bible studies are ongoing this month! Zoom links are sent by email.

YA Monday Bible Study via Zoom
Friday Bible Study via Zoom
Tuesday Bible Study at church
HiC Bible Study on Fridays via Zoom

Prayer Ministry: Prayer ministry is every Wednesday at 9pm via Zoom! Link sent by email!
September 1, 2020
Sunday Worship: Phase Two Re-Opening begins September 6th and will go for the months of September and October. We will be sending you an email to invite you to worship in person with us!
Sunday, August 6th: Kids Church Sunday. We will be having in-person worship for those in Kids Church and their families. Please check your emails for more details!
Bible Study: Bible studies will resume this month. Zoom links will be sent by email.

YA Monday Bible Study resumes September 14th on Zoom
Friday Bible Study resumes September 18th on Zoom
Tuesday Bible Study resumes September 22nd at church
August 12, 2020
Sunday Worship: We will continue to have joint virtual worship with St. Andrew's HH for the month of August. There will be no in-person worship for the rest of August.
Re-Opening: Phase Two of re-opening will start September 6th! Further announcements regarding re-opening coming soon
Make sure to sign up for our email list to receive invites, announcements, zoom links and more!
July 21, 2020
Sunday Worship: We will be having a joint virtual worship with St. Andrew's HH on zoom starting on July 26th
Phase One Re-opening: Our congregation has been split into three groups to come to church for in-person worship and fellowship on July 26th, August 2nd, and August 9th. We will continue to have worship and fellowship over zoom as well
Make sure to sign up for our email list!
June 16, 2020
Sunday Worship: we will continue worship over zoom. The link is sent through email to those who are subscribed to St. Tim's. Subscribe here!
Church Re-Opening: Churches are allowed to have 30% of the maximum capacity. We are in the process of slowly re-opening! Further announcements coming soon.
March 27, 2020
March 21, 2020
Daily Prayer will begin on Monday, March 23 at 9:30pm. Each day, we will convene online for about 15 minutes to pray for one another, the city and the world as we proceed through the COVID-19 crisis. Please join us each day or whenever you can in prayer. This is the link: https://zoom.us/j/512187039
A popular misconception until recently has been that young people are quite immune from COVID-19. New research is revealing that to be a false misperception: Washington Post article, BBC article. Let us encourage our young people to be just as vigilant as everyone else in our collective efforts to contain the virus.
March 18, 2020
Sunday Worship
Monthly Prayer Gathering – Saturday, March 21, 8am
The in-person prayer gathering is cancelled, but we will be having an online prayer gathering!
You can join us on Saturday at 8am by clicking on this link: https://zoom.us/j/203772383
This will be a time of sharing, reflection and prayer. We hope you can join us!
Offering
As you may imagine, the church runs on the tithes and offering of its members. Stewardship is a spiritual discipline. We kindly ask that you support the church during this time of challenge and difficulty. We understand that there will be people facing tremendous financial challenges. For those able to, please continue your support and offering to the church for its ministry.
There are two options: (1) E-Transfer through your online bank account; (2) Enrol in the Pre-Authorized Remittance (PAR) program
E-Transfer: send your amount to StTimOffering@gmail.com. This account is being administered by Elder Steve Lee, so you can put his name down. Please type in your name or enveloped number in the message box.
PAR Program: we ask that you consider enrolling in this. You can submit the completed form to our Treasurer, Brian Park at bparkb at gmail.com.
ESM Online Bible Study
Rev. Kim will lead a study on the gospel of Mark – this will be held online
It will commence on Friday, March 27 at 8pm
The registration link will be posted and sent out by email soon – please check this page for updates!