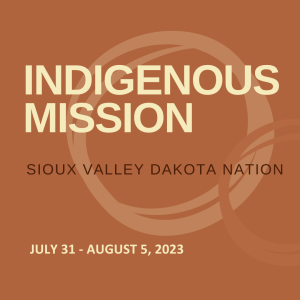 Pursuing Life
"I came that they may have life, and have it abundantly." (John 10:10b)
What is Sioux Valley?

Sioux Valley Dakota Nation is an indigenous community in southwestern Manitoba

Why are we going?

We are going to learn, listen and discern how we might be friends to this community

What will we be doing?

We will run a children's camp, youth camp and listening forums for adults

When will we be going?

We will depart Toronto on July 31 and return on August 5

How can I find out more?

We will have an online information session on May 18 at 8:30pm. You may also speak to Rev. Park or Elder Jennie Jang for more information.
Responding to God's Call
Our prayer for this summer is that we can (re)establish bonds of friendship. We humbly seek to live out our mission statement of being a compassionate community. We pray for discernment in how we might be a part of the process of healing and reconciliation in this country. We hope you will prayerfully consider being a part of our work this summer!